Say Yes to the Marquess by Tessa Dare is one of those stunningly fantastic books that Tessa Dare seems to effortlessly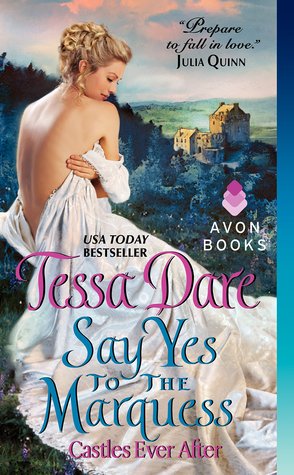 create. The second book in the "Castles Ever After" series (the first was "Romancing the Duke"), revolves around Clio Whitmore, a woman engaged for eight long years to Piers Brandon, the Marquess of Granville, who is in the foreign service.
Clio has just inherited a castle from a relative, and she decides it's time to break off the engagement, move to her castle, and make a life for herself. She is stymied in her plans by Rafe Brandon, prizefighter and younger brother to her betrothed. Because Piers is away from England, Clio requires Rafe's signature in order the break the engagement. Rafe, however, refuses to break the engagement, because he desires Clio for himself, but doesn't feel that he deserves her because of his rakish and dissolute lifestyle, and knows she will be better off with his brother.
He liked to devil her until he turned her cheeks some new, exotic shade of pink. And he'd wondered, many times, how she'd look with that slick knot of golden hair undone, tangled from lovemaking and damp with sweat.
Determined to see her married to his brother, Rafe comes to her castle with his outrageous trainer and promoter Bruno, with the mission of planning the perfect wedding. They are hoping that by building up her anticipation for the wedding, Clio will be willing to marry Piers when he arrives back in England. Because there are only two things that Rafe fears: paperwork and Clio.
This book is entertaining as well as a romantically satisfying read. Clio is lovely as a woman who finally wants to take charge of her own life, after being in limbo for eight long years to a man who is obviously not eager to claim her, and who now has the ability to support herself and the life she wants to lead. Rafe, is forthright and honourable, and has self-esteem problems stemming from a cold family and difficulties in school. As usual, Rafe protests a bit too much about his unsuitability, but he has intense self-awareness of his strengths and weaknesses, which is not at all common.
Rafe and Clio are surrounded by an eclectic cohort. Clio's two sisters are with her at the castle, her youngest sister Phoebe, bookish and unusual, and Daphne, a social climber married to the muddle-headed Teddy. Clio's sisters are very different from each other, but there is much love and caring despite the bickering. Rafe brings with him Bruno, also call "Bruiser," who was supposed to act as his valet but instead decided to play gentleman and wedding organizer. Most of the best, and funniest one-line zingers belong to Bruiser, including this little gem (referring to Rafe's feelings towards Clio):
"Indeed." Bruiser rolled his eyes and dusted off his hat. "Definitely no years of pent-up lusting there. Glad we have that sorted."
"Say Yes to the Marquess" is definitely a recommended read. Engaging characters, witty dialogue, and an emotional "friends to lovers" storyline is sure to keep your attention. The characters are so real, that I was sad to see the book end, and I hope that Phoebe and Piers eventually get their own books too!
Book Info:

Published December 30th 2014 by Avon | (Castles Ever After #2)
Your presence is requested at romantic Twill Castle for the wedding of Miss Clio Whitmore and . . . and . . . ?
After eight years of waiting for Piers Brandon, the wandering Marquess of Granville, to set a wedding date, Clio Whitmore has had enough. She's inherited a castle, scraped together some pride, and made plans to break her engagement.
Not if Rafe Brandon can help it. A ruthless prizefighter and notorious rake, Rafe is determined that Clio will marry his brother—even if he has to plan the dratted wedding himself.
So how does a hardened fighter cure a reluctant bride's cold feet?
● He starts with flowers. A wedding can't have too many flowers. Or harps. Or cakes.
● He lets her know she'll make a beautiful, desirable bride—and tries not to picture her as his.
● He doesn't kiss her.
● If he kisses her, he definitely doesn't kiss her again.
● When all else fails, he puts her in a stunning gown. And vows not to be nearby when the gown comes off.
● And no matter what—he doesn't fall in disastrous, hopeless love with the one woman he can never call his own.