The The Hitman Who Loved Me by Shady Grace is the story of Jamie Fields, a woman struggling to make ends meat. Owing money to both her former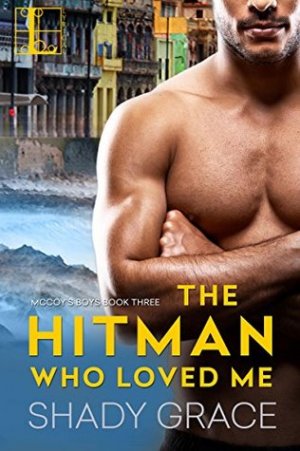 drug supplier and her landlord, she goes to her seasonal job as a housekeeper at a resort in Northern Ontario. There she meets Jack Daniels, who disappears from the resort as quickly as he arrived. Disappointed by his leaving, she also finds out she's being laid off. Monty, her co-worker at the resort, reaches out to a friend of his who has a job for her. Simply fly to Cuba, pick up a suitcase, meet up with a contact and exchange that suitcase for another, leave the suitcase at a drop point, then fly home. How hard could that be? Plus it's a free vacation. Only there's more to it than Jamie ever imagined.
Hitman Sam Hayes hasn't had a vacation in years. He's thrilled to be getting away from the business of killing and checks in to the resort under the name Jack Daniels. Only he's quickly called back by his "brothers" because someone is blackmailing the family. His job is to go to Cuba, find out who it is, and take them out. Simple, right? Only when he runs into Jamie, the only woman who had peaked his interest in a while, he has a sinking suspicion that she's involved. Now he needs to decide if she's a criminal mastermind who he has to take out, or if someone else if pulling the strings before it's too late.
This is an instant love story, which isn't normally my cup of tea. Jamie and Sam know next to nothing about each other, but Sam's already envisioning a future with her. Jamie didn't even know Sam's real name until close to the end of the book. The whole time he was pretending to be someone else. She was lying about why she was really in Cuba, and although he was also lying about his reasons for being there, two wrongs don't make a right.
There were several times where Jamie wanted to confess why she was there, but then she didn't. I wished she would have. It would have eliminated all of Sam's guessing as to whether he needed to kill her or not.
I was also slightly confused about Sam's "brothers", who weren't his biological brothers. It was mentioned that both fell in love and left the mob business, yet Gabe was down in Cuba helping Sam with the op while Terry had sent Sam to kill the person blackmailing the family. To me, it didn't sound like they were out of the business
.
Overall, I wasn't impressed with this book. When one person doesn't even know the actual name of the person they're with for most of the story, I have a hard time buying the romance. Yes, they had chemistry in the bedroom, but outside of it? I didn't think so. Jamie comes across as naïve, never stopping to question why someone would offer her fifty thousand dollars and an all-expenses paid trip to Cuba for a suitcase exchange. Sam is simply desperate to have love in his life like his brothers. The only redeeming part of the book was the end. I thought what Sam did for Jamie was sweet. Still, it was too little too late to save this book for me.

Book Info:

Publication: June 20, 2017 | Lyrical Press | McCoy's Boys #3
Jamie Fields can hardly refuse a free vacation. Jobless and broke, the struggling single gal is in need of serious stress relief. Sure, the set up is suspicious—no one gives away a trip to exotic Cuba—complete with 50,000 dollars cash—just for delivering a package. But once Jamie's enjoying sunny beach days and exhilarating tropical nights, she's too happy to care. Especially when she finds herself hotly pursued by a sexy stranger…
The McCoy empire is under siege, and Sam Hayes has been tapped to take care of the culprit. Sam knows better than to get involved with his target, but there's something about Jamie that keeps him from simply finishing the job and moving on. Maybe the hard-bodied hitman just can't wrap his mind around the fact that the first woman to set his soul on fire is a common criminal. The only thing Sam can do is keep her close. An easy enough task—if Sam doesn't do something stupid. Like fall in love with the bombshell he was sent to kill….