In The Invisible Husband of Frick Island by Colleen Oakley, For Piper Parrish, Frick Island in the Chesapeake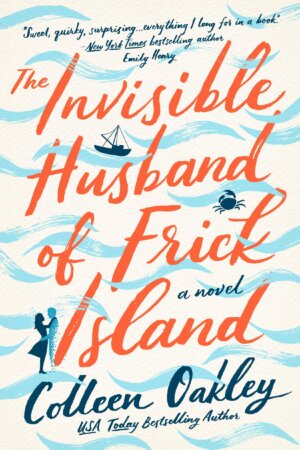 Bay is a wonderful place to live. She married her high school sweetheart Tom who has his own crab trawler and they rent the cutest little carriage house. But everything changes when Tom's boat is found after a storm–without Piper's beloved husband on it. After the search is called off, locals are stunned when she appears to act as though Tom is still alive. She goes about her normal daily routine. Even carrying on conversations with him. Then journalist Anders Caldwell visits the island for one of their touristy events. When he comes nosing around Piper, asking questions about not only the state of the island due to climate change, but about her husband, she's not sure what he's up to. Although she begrudgingly has to admit after getting to know him better that Anders might just have the island residents' best interests at heart after all.
'Nobody on the mainland cared about what was going to happen to their island, that much Piper knew for sure. The question was: Why did Anders seem to care so much?'
Anders has had his sights set on growing his podcast and becoming the next big name in journalism. Working for a local Maryland paper and covering a festival on a remote island wasn't exactly where he'd hoped to be at this point. But as Anders walks around Frick Island, another story–a much more interesting one–becomes clear. The entire island is letting a grieving widow pretend her deceased husband is still alive. How does that happen in this day and age? That's what Anders decides to investigate, under the guise of researching the effects climate change is having on the disappearing island. What he uncovers ultimately makes him rethink his views on loyalty, relationships, and what you are willing to do for those you love.
'There were more buried secrets on this island than on a sunken treasure ship, and Anders was tired of uncovering them.'
Colleen Oakley has once again sparked my imagination and led me on a wild–and wildly entertaining–journey, this time set in the gorgeous Chesapeake Bay area with her new heartfelt novel, The Invisible Husband of Frick Island.
'Maybe a woman thinking her dead husband was alive wasn't the strangest thing in the world.
Maybe the strangest thing in the world was a whole town pretending they could see him, too.'
I wasn't sure what to expect after checking out the synopsis for this newest offering by Colleen Oakley–and I had so many questions. Was Piper's husband actually dead? Was she seeing his ghost? Was she having a mental breakdown? And knowing how Oakley so deftly creates storylines that keep readers guessing, I had a feeling there were many layers to get through before finding all the answers. Which turned out to be absolutely correct. There was a whole lot more going on than met the eye on Frick Island.
For a story that could have easily gotten bogged down with grief and loss, there was actually a lot of lightheartedness thanks to the offbeat locals on the island. It was a terrific backdrop for this type of plot. A small community coming together to help one of their own grieve–even if it meant going along with Piper's supposed delusion about being able to see Tom. It seemed a little weird at first, honestly. But after a short while, it seemed more sweet and caring that the locals humored and supported their beloved Piper while attempting to not hurt her feelings. She in turn showed her caring nature in how she revered her neighbors and helped them tirelessly.
I wouldn't really characterize this as a romance novel. Those elements were there. Such as–without giving too much of the storyline away–there was definite attraction that grew between Anders and Piper over time. Although it was complicated. Obviously. I did enjoy Anders overall. He was a Clark Kent-like journalist who was more of a beta hero than alpha. He made a decision when it came to how he handled Piper's story that I think readers likely won't agree with and he ended up paying the price for it, but I'd like to believe that Anders' heart was in the right place. It wasn't just about the story. It was about the islanders and Piper herself that kept him coming back to complete his investigation.
The Invisible Husband of Frick Island showcased clever storytelling told through multiple POVs that will keep readers on the edge of their seats. Somber but hopeful, with a sense of community and acceptance, Colleen Oakley has spun another memorable tale.

QOTD: Frick Island is fictional (based on Smith Island in Chesapeake Bay) but the way the residents banded together and seemed like they were stuck in their own world is quite accurate for a remote island. Have you ever experienced a location or community like this? (I have!!)
Book Info:

Publication: Expected publication: May 25, 2021 | Berkley |
Sometimes all you need is one person to really see you.
Piper Parrish's life on Frick Island—a tiny, remote town smack in the middle of the Chesapeake Bay—is nearly perfect. Well, aside from one pesky detail: Her darling husband, Tom, is dead. When Tom's crab boat capsized and his body wasn't recovered, Piper, rocked to the core, did a most peculiar thing: carried on as if her husband was not only still alive, but right there beside her, cooking him breakfast, walking him to the docks each morning, meeting him for their standard Friday night dinner date at the One-Eyed Crab. And what were the townspeople to do but go along with their beloved widowed Piper?
Anders Caldwell's career is not going well. A young ambitious journalist, he'd rather hoped he'd be a national award-winning podcaster by now, rather than writing fluff pieces for a small town newspaper. But when he gets an assignment to travel to the remote Frick Island and cover their boring annual Cake Walk fundraiser, he stumbles upon a much more fascinating tale: an entire town pretending to see and interact with a man who does not actually exist. Determined it's the career-making story he's been needing for his podcast, Anders returns to the island to begin covert research and spend more time with the enigmatic Piper—but he has no idea out of all the lives he's about to upend, it's his that will change the most.