I really enjoyed Virginia Nelson's The Irish Prince. It is sweet, funny and a little spicy, and I am looking forward to reading more by Ms.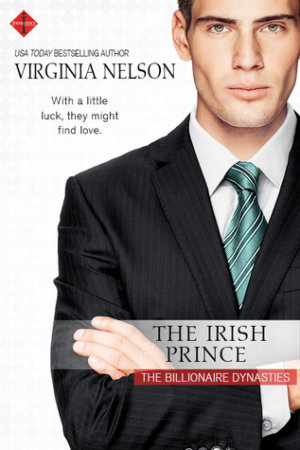 Nelson. Chelsea Houston has been Aiden Kelley's executive assistant for years and has tried to quit several times, but he's always convinced her to stay. He's a controlling and demanding boss, and he drives her crazy. After she finds a bra in her office—he's a playboy too—she submits her resignation and is swears this is it.
Her plans go out the window when Aiden suddenly finds out that he has a ten year old daughter he never knew about. He needs Chelsea to travel with he and his daughter on a get-to-each-other road trip to the Grand Canyon. He's always relied on Chelsea, and he begs her to go. She reluctantly agrees after meeting his precocious daughter, but she fears she is treading dangerous ground going on a trip with Aiden and moving their relationship outside of the office. She's always been attracted to him, and this intimate situation could blur the line between employee and boss, which she fears could break her heart.
The three set out on their trip to the Grand Canyon, and the journey is pretty hilarious. Both Chelsea and Aiden's daughter have a sarcastic sense of humor, and they kept me laughing throughout the book. Aiden is sexy and charming, but he also has a sensitive side; it just takes a bit to bring it out f him. He's adorable as he deals with being and instant parent and his developing feelings for Chelsea. The Irish Prince is a fun and feel-good romance, and I highly recommend it.

Book Info:

Publication: 5/15/17 | Entangled Indulgence | Billionaire Dynasties #2
CEO Aiden Kelley's life of billionaire extravagance is flipped upside down when his ex shows up with a ten-year-old she claims is his. Totally out of his element and losing the control so integral to his success, he needs help. To top it all off, the only constant woman in his life, his executive assistant, has given notice just when he needs her help to survive his newfound fatherhood.
Chelsea Houston is an executive assistant, not a nanny. The only person more clueless about kids is her boss. Helping him on a daddy-daughter road trip is her last task before he'll accept her two weeks' notice and she can be free of the infuriating man she's had a crush on for longer than she'd admit.
Aiden's carefully ordered life has never been so disorganized, and he's suddenly tempted by the things he thought he could never have.