The Italian Billionaire's New Year Bride by Scarlet Wilson: The past sometimes has tentacles that can keep a tight hold on you for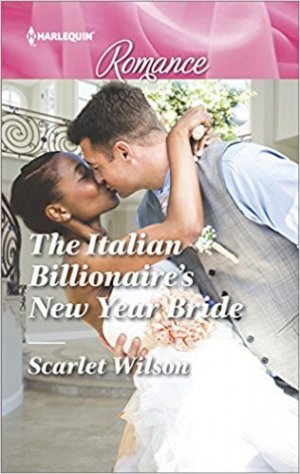 years. Sometimes people just don't know how to cut them off, or how to loosen them.
Phoebe Gates was one of those people. She had suffered so much in a short time, she was more concerned about how she was going to make it through, how she was going to keep holding strong to her family. She did have an outlet though, she loved her job. She loved designing and seeing what a home really could be. For her it, the work, was a passion, not so much a job.
Matteo Bianchi had let the past wrap around him so much he was starting to feel strangled and wasn't sure how he was going to deal with that, not now that it seemed like it kept getting thrown in his face. He was just trying to keep his family together though. That was what he thought, as the oldest that was his job, right?
When Phoebe and Matteo meet there is no denying there is some sort of energy there, but with them both so wrapped in the past there couldn't be more than that, could there?
Wow. Ms. Wilson has delivered this amazing winter novel that makes you feel the fire burn deep within. Her characters are flawed big time, but she has this amazing way of not rushing their transformations. Instead she allows the reader to really understand their inner workings without being buried in details. This is not a hot and fast, but more a slow building fire that will have you dancing down the stairs into your own library.

Book Info:

Publication: January 1st 2018 | Harlequin Romance |
"Ms. Gates, would you like to earn a quarter of a million dollars?"
Phoebe must be dreaming. She's bowled over by gorgeous Italian billionaire Matteo Bianchi's offer of redecorating a spectacular house in the Hamptons and a mansion in Rome…and Phoebe can't refuse! It's just what she needs to take her mind off losing her fiancé.
But when they're snowed in together on New Year's Eve, their attraction explodes like the fireworks outside. And as Phoebe works her magic across the two properties, Matteo wonders… Could he finally open his heart and make her his bride?