In Lips Close to Mine (Wherever You Go #2) by Robin Bielman, Harper McKinney does her best to avoid spending any time with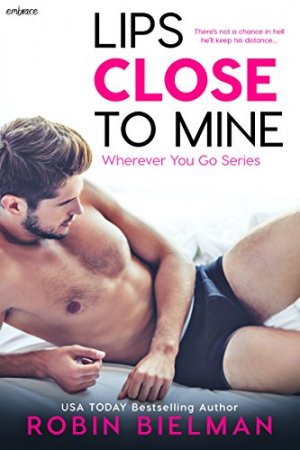 Levi Pierce, especially since the incredible night they spent together. However, it's hard to avoid him when her best friend's boyfriend is one of his roommates and she finds herself needing to work alongside him to have any chance of landing the job she wants more than anything. Yet, the more time she spends with Levi, the more she finds herself falling for the gorgeous man. Will Harper be able to overcome her fear of relationships and losing another person she loves to achieve happy ever after, or will she lose the man that's coming to mean everything to her?
"Wouldn't you like to know what she said before you issue a command?"
"No."
"So you'll never know if I heed your advice or not." I send him a dirty look. "She was very happy to see me. Said she has fond memories of you and me in the buff. Then she said we should get naked again."
"Jesus." I cringe and shake my shoulders. "My mother has no filter sometimes."
What do readers get when Ms. Bielman delivers a story encompassing a heroine that doesn't do relationships for fear of losing someone else she loves and a hero that wants nothing more than to spend another night – maybe even more – with the woman that does her best to ignore his existence? Well, in my opinion, readers get an absolutely captivating and incredibly emotional story that gave me moments where I rotated between smiling, crying and laughing. Will the heroine be able to let go of her past and her fear of losing someone she loves to take a chance on Levi? Will Levi be able to prove to Harper that he's not going anywhere, as long as she wants a relationship with him?
The way this story started had me amused by the opening line as Harper's two top 'S' words are definitely interesting, especially when her first one surmounts the second whereas I'd think – for her — it would be the other way around when a man like Levi is involved. However, in saying that, this book just keeps getting better and better with everything the heroine goes through. Such as doing her best to prove she's right for the job; deciding whether she can give another relationship a chance; and whether she'll listen to her best friend's advice because Levi is a good man and Harper deserves to find happiness again. However, it was from the moment the hero and heroine came face-to-face for the first time in this story that made this story a total page turner, as Levi and Harper have such strong chemistry and I was wanting to know whether they'd give in to it sooner rather than later? How long can Harper resist Levi, especially when he's so charming?
Both the main characters were fantastic and I loved every interaction between these two, as Harper does her best to resist the hero while Levi does his best to win the heroine over. Moreover, the heroine has been through so much and I could understand why she was so determined to work as an ambassador for such a good cause. I could also understand why losing someone like she did makes her afraid to give another relationship a chance. How does she know that she won't lose someone else she loves so tragically? Then again, everything she's been through in her past has made her the strong, independent woman she is. Yet, what I liked most of all about the heroine was how resilient, courageous and determined she was to stand up for what she wanted for her life when it came to her father's desire to see her join the family business. Will she be able to convince him that her life is just that – her life – and she doesn't need his opinions when it comes to what she should be doing with it?
While the hero, he's been through a lot in his life too, and yet, I liked that it didn't hold him back from going after everything he wants, which is proven by the job he takes on in his career as a cameraman. I also liked that he's loyal to those that he's close with, especially his friends; and his determination to win over the heroine and convince her that what happened to someone she loved wasn't her fault. It was an accident – pure and simple – and there's nothing she could have done. Yet, what I liked most of all is the way he encouraged the heroine to pursue another dream, which would allow her to honor someone she will never forget.
"What are you doing? I ask, rather desperately.
He closes his eyes for a moment, relishing our position. "I know it's cliché, but I could die right now a very happy man."
"Good to know, because if you don't start moving right this second, I'm going to kill you."
His answering grin is going to kill me. He's so unbelievably cute and hot and sexy. "Aw, Ham, I love it when you talk dirty."
Overall, Ms. Bielman has delivered another exceptional read for this series where the chemistry between this couple was powerful; the romance full of exquisite heat and passion that does justice to their intense chemistry; and the ending had me loving that the heroine realized how much she loved Levi before it was too late. Her words to the hero show how strong she is and her timing for finally confronting her fears was perfect. However, it was the final chapter that wrapped this story up superbly, because of the way Levi surprises the heroine. I would recommend Lips Close to Mine by Robin Bielman, if you enjoy the friends to lovers trope or books by authors Cindi Madsen, Lila Monroe, RC Boldt and Avery Flynn.

Book Info:

Publication: November 20th, 2017 | Entangled: Embrace | Wherever You Go #2
I wasn't supposed to see Levi Pierce ever again. A few months ago, he charmed the pants off me and we spent one incredible night together.
End of story.
Only it wasn't. Pretty soon everywhere I turn, I see him. Our best friends are dating. My mother mistakenly—and happily—thinks he's my plus-one to my cousin's wedding. And he's the guy I have to work with on the most important job opportunity of my life.
Here's my problem: I like Levi. I like his killer smile and his dreamboat eyes and definitely the way he makes me feel in bed. But I've sworn off relationships. So when the sexual tension reaches epic proportions and we fall back into bed together, I tell myself it's temporary. When I start to feel more, I tell myself it's over.
Only Levi isn't a forget-it kind of guy. When his lips are close to mine and he swears he's always wanted me, my defenses disappear. But some things in life just aren't meant to be.
Or are they?