The Italian's Final Redemption by Jackie Ashenden is fantastic December 2020 Harlequin Presents story which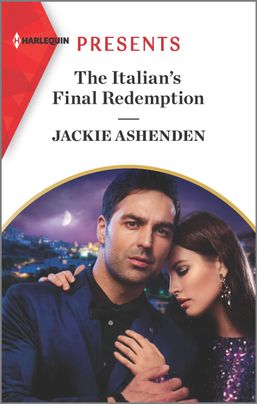 grabbed me at the first line "Lucy Armstrong planned her own kidnapping meticulously."
Lucy's plan has been detailed right down to every word and she's sure Vincenzo de Santi, her father's number one enemy will help her. Especially if it means he can use her knowledge to bring down her father and his rotten mafia-esque empire once and for all. Scared of her father's goons she lays her life on the line for a mere promise of freedom from prosecution and from her father. Of course, if things were that easy, we wouldn't have the incredibly entertaining, darkly dramatic and sizzling story that The Italian's Final Redemption is.
What I really loved about this story was the drama, the different from usual story line and the two characters who had a week together before Lucy had to deliver on her promise and before Vincenzo vowed to keep his. Lucy was brave, intelligent, strong and likeable. Vincenzo complemented her light with his dark and was written in a way you could slowly see him waver from his steadfast believe Lucy needed to have the book of law thrown at her hard and fast. Back stories were emotional and dialogue was interesting. Unable to read in one setting I went back to it as often as I could over the weekend.
In her crossover to the Presents line, Jackie Ashenden brings with her the drama, emotion and sizzle she's renowned for in her Contemporary stories and I absolutely love it! The Italian's Final Redemption was everything I look for in the Presents escapism and I absolutely loved it!

Book Info:

Publication: December 2020 | Harlequin Presents |
His pursuit for justice was clear…
Until he met her!
Vincenzo de Santi has dedicated his whole life to redeeming his family's crimes. So when Lucy Armstrong offers evidence about her nefarious father in exchange for her freedom, he will show no mercy. No matter how innocent she seems…
Lucy must escape her father's prison, even if that means bargaining with another powerful man. Yet for all Vincenzo proclaims to be coldhearted, his touch is red-hot. For once, Lucy isn't afraid. However, before Vincenzo can set her free, first she must free him…