In The Jackal (Black Dagger Brotherhood: Prison Camp #1) by J.R. Ward, It has been close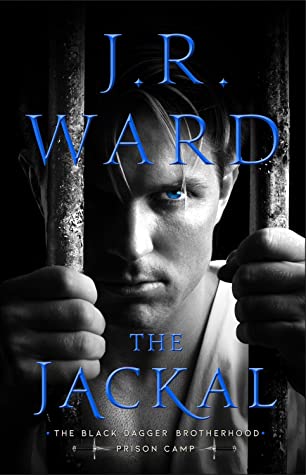 to fifty years since vampire Nyx's older sister was imprisoned in the glymera's underground camp and yet Nyx refuses to give up hope that her sister could still be alive. So when she unexpectedly finds one of the hidden entrances into the prison, Nyx's mission is clear: find out if her sister is alive, and if so, bring her home. But her plans soon change. Once in the underground tunnels, she meets The Jackal. A vampire who has been imprisoned for nearly a century but who is surprisingly kind–and handsome. Their teamwork to find Nyx's sister leads them into danger as well as learning secrets she never could have dreamed of.
'His big body was beautiful, and so was his face, but those eyes…it was the way they revealed his soul that called to her the most.'
When The Jackal came upon the gorgeous and feisty vampire in the tunnels he was shocked. Having been in the prison for nearly a century, he never thought he would once again converse with a civilian. But once he learns of Nyx's mission, The Jackal is compelled to help her–whether they find her sister or find closure for her family. His reaction to Nyx takes him by surprise, though. And he finds himself wishing he could leave the prison to start a life with the female. Dangerous thoughts, those. Because even though Nyx is worth any cost, The Jackal is tied to the prison in a way that doesn't allow him to plan an escape. So instead he'll have to do his best to ensure Nyx makes it out alive.
'She was what shone through his darkness. She was the light that he had been drawn to, and now followed readily.'
An exciting first book in the new Black Dagger Brotherhood spin-off series, The Jackal was gritty, action-packed and full of the bittersweet moments, laughs and in this case, tender romance that fans love from J.R. Ward.
"Under different circumstances," she said, "I really could have fallen for you."
"Under different circumstances, I would have fallen even harder for you. And not regretted my heart's tumble for a moment."
I skipped over any kind of trigger warning because if you've read Ward's BDB books then you know what you're in for already. The Jackal was no exception to the rule. It was gory in places and flirted with some darker themes where this was set in an underground prison, so you can imagine what that entailed. But like you would expect from Ward, there were times of levity as well as camaraderie as only she can write it. That included Nyx and The Jackal at the prison and as we followed Rhage's century-old flashbacks and during the present day with him at the BDB mansion. (Including a few stolen father/daughter moments between Rhage and Bitty! Sigh…)
It seems like anything I mention about the plot itself will be a spoiler where there were so many twists and turns as the details were laid out by Ward. Now I know there were some fans who were more interested in getting back to the Brothers in the BDB who still need their story–or more of their story–explored. But I really enjoyed this spin-off and it seems like it added another layer of depth to the complex world Ward has built.
Our main characters were mainly Nyx, our absolute kickass heroine, and The Jackal, a brave, thoughtful man who had been dealt a very bad hand in life. Both were vampires. But they had led very different lives…and not just where The Jackal had been imprisoned for a hundred or so years.
Nyx's family was everything to her. Something the Jackal hadn't really had in his life, that sense of love and togetherness. Although it was something he had longed for. So feeling such a strong attraction and connection to Nyx was a revelation for The Jackal and it made it that much more complicated with him seemingly unable to escape with her. And when Nyx's world was shaken to the core with the truth she uncovered in the prison, The Jackal showed his courageous nature, doing what he could to help his newly found beloved.
World-shattering secrets. Loyalty tested in shocking ways. New beginnings for some and a rejoining of lives for others. The Jackal had me absolutely captivated and unwilling to let go of these characters even after the final page was read. Definitely recommended.
Book Info:

Publication: August 18th 2020 | Gallery Books | Black Dagger Brotherhood: Prison Camp #1
The #1 New York Times bestselling author of The Sinner brings another hot adventure of true love and ultimate sacrifice in the Black Dagger Brotherhood world.
The location of the glymera's notorious prison camp was lost after the raids. When a freak accident provides Nyx clues to where her sister may still be doing time, she becomes determined to find the secret subterranean labyrinth. Embarking on a journey under the earth, she learns a terrible truth—and meets a male who changes everything forever.
The Jackal has been in the camp for so long he cannot recall anything of the freedom he once knew. Trapped by circumstances out of his control, he helps Nyx because he cannot help himself. After she discovers what happened to her sister, getting her back out becomes a deadly mission for them both.
United by a passion they can't deny, they work together on an escape plan for Nyx—even though their destiny is to be forever apart. And as the Black Dagger Brotherhood is called upon for help, and Rhage discovers he has a half-brother who's falsely imprisoned, a devious warden plots the deaths of them all…even the Brothers.