In a gorgeous dance of Magical Realism meets Historical Romance, The Keeper of Happy Endings by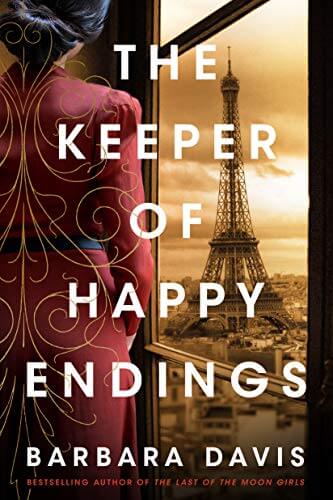 Barbara Davis is packed to the brim with love and loss – A perfect tragedy that simply couldn't shy away from a little happily ever after whose central characters were deserving of more than just joy.
At times, devastating, and at others, completely uplifting, Rory's story is inextricably linked to that of the dress witch, a magical Parisian seamstress who wove more than just charms and fates into the wedding gowns she created for a living.
Set in a mixture of World War II and 1985, we journey through Soline and Rory's story, who, as fate would have it, end up crossing paths after Rory finds the perfect location for her to realise her dream of opening her own art gallery.
For Rory, the gallery becomes a lifeline, tethering her to the memories of her fiancé as she struggles to give up all hope that he has been murdered by kidnappers in a South Sudan militia take-over. 10 months in, she doesn't know how to breathe and beyond the avoidable Sunday Brunch with her upper middle class socialite mother, who she has a frosty relationship with at best, Rory determines that fighting to find who you are and working out how to make a dream a reality maybe the only thing she can do to pull herself momentarily out of her limbo-type dichotomy of hope and grief for her soul mate.
Similarly, Soline's tale is also marred by horrific tragedy; escaping Nazi Germany to the US, waiting for her lover Aston to return, only to be told he has been killed, to losing her child and the one thing that kept her tethered to his memory and a never-to-be realised future.
This incredible tale was bookended with powerful themes of resilience, know thyself, and recognising the precarious balance between living in hope and succumbing to hopelessness. For both Rory and Soline, their remarkably similar narratives bind them together, as each sense a deep loss in the other, and yet despite their generational difference, both are compelled to strike a friendship that provides a comfort the other desperately needs.
Each character was shaped with care, and by cleverly using flashback, we are able to gain a rich sense of who Soline is, and what her life could have become if fate and perhaps her family curse hadn't robbed her of everything she loved.
This heartbreaking yet beautiful tale will speak volumes to anyone who has loved deeply and lost cruelly, and most certainly found the inner courage required to simply keep going. Undoubtedly, this inspired and beautifully written tale will strike into the hearts of all readers and perhaps offer solace and faith where there was thought to be none.
Book Info:

Publication: 1st October 2021 | Lake Union Publishing |
Soline Roussel is well schooled in the business of happy endings. For generations her family has kept an exclusive bridal salon in Paris, where magic is worked with needle and thread. It's said that the bride who wears a Roussel gown is guaranteed a lifetime of joy. But devastating losses during World War II leave Soline's world and heart in ruins and her faith in love shaken. She boxes up her memories, stowing them away, along with her broken dreams, determined to forget.
Decades later, while coping with her own tragic loss, aspiring gallery owner Rory Grant leases Soline's old property and discovers a box containing letters and a vintage wedding dress, never worn. When Rory returns the mementos, an unlikely friendship develops, and eerie parallels in Rory's and Soline's lives begin to surface. It's clear that they were destined to meet—and that Rory may hold the key to righting a forty-year wrong and opening the door to shared healing and, perhaps, a little magic.