In The Kindred Spirits Supper Club Amy E. Reichert, Journalist Sabrina Monroe grew up in Dells, Wisconsin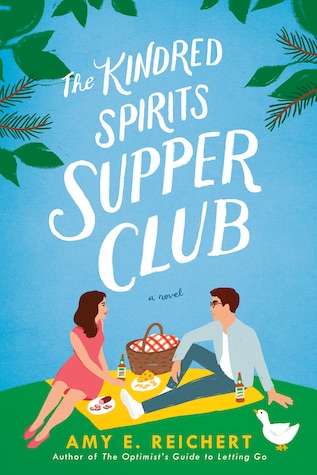 with a secret never far behind–that the women in her family can see and interact with ghosts. It's tough to make long-term friends when you never know when a newly departed will suddenly appear and need your help resolving their unfinished business so they can leave this plane. So Sabrina left the Dells right after graduating, trying to put her past (and her anxiety) behind her. But after losing yet another job and still drowning in student loans, her only option is to move back in with her parents for the summer. And to get a job at one of the local water parks.
'Her family secret prevented her from really connecting with anyone… She liked Ray enough that she couldn't risk ever having to see the fear and disgust on his face when he found out the truth.'
Ray Jasper has fallen madly in love with Dells. And having his family's history being woven around in the local town, it helps him feel like he's found a place to call his own. A place he can settle down and be free from his socialite parents' machinations. Then Ray has a meet-cute worthy of a rom-com with Sabrina. Kind, generous, shy and slightly eccentric, she's everything he could hope for in a woman. Now to prove to her that he can be trusted before she leaves the Dells at the end of the summer. Ray has a long way to go to get his uncle's supper club back up and running, solve a bit of a mystery from his family's past, and show Sabrina that they're perfect for each other. But he's never felt more sure of anything before in his life.
'Something was different about her, more than the usual, but it was none of his business until she wanted to tell him. Even then, it wouldn't change anything. Her eccentricities made her all the more interesting.'
The Kindred Spirits Supper Club might just be my favorite book by Amy E. Reichert so far. With enough humor, offbeat characters and situations (fake dating!) to keep me grinning, a whole host of emotions to sort out, and even a supernatural twist, this was one enjoyable ride.
'But happily ever afters in real life were very different from the movies… Real happily ever afters were flavored with bitter and sweet. With Ray by her side, Sabrina wanted to taste it all.'
I had so much fun reading The Kindred Spirits Supper Club. It admittedly took me a couple of chapters to get the gist of our heroine Sabrina's personality and the issues she was facing down, as well as figuring out if hero Ray was as good a guy as he seemed to be. (He was!!) This slow burn romance was told mainly from Sabrina and Ray's POV but there was a third, very special POV–that I won't spoil–but will say that it added a unique perspective that, to me, seemed to bring everything full circle.
I loved that Reichert included many details about the Dells area in Wisconsin, creating this quirky little community in a gorgeous setting filled with local history, rivalries, family secrets, and even delectable descriptions of regional food. It really brought Sabrina and Ray's story to life on the pages. And it made it clearer to me why Sabrina wanted to get out of Dells after growing up with her family's secret–the women in her family can see ghosts–hanging over her; as well as why Ray was drawn to the (slightly) slower pace of the area compared to his society-driven family life in New York.
They were at odds when it came to their feelings on Dells. Sabrina definitely had her reasons for wanting to move on. And Ray had his own reasons for wanting to put down roots in the town. But it was lovely to watch Sabrina conquer her fears, take steps to battle her anxiety, and realize that she had more control in finding her own way than she had thought. And as for swoony Ray? Sigh… Not only will you want to hug him for the awesome person he was, but the mystery about his family's past was solved in a way that was both heartbreaking and heartwarming–and something that will surely be memorable for readers.
Touching, sweet, giggle-worthy, and a book that simply made me happy, The Kindred Spirits Supper Club was all about finding your place in the world, acceptance, and what love and family truly means to us in our everyday lives.

Book Info:

Publication: Published April 20, 2021 | Berkley |
"A charming rom-com with a supernatural twist…Filled with a strong sense of place, mouthwatering descriptions of food, and a sweet love story (or two), Reichert's latest will surely delight readers." Booklist Starred Review
Named a Must Read for spring by Buzzfeed * Bustle * Booktrib * PopSugar * BookRiot * Midwest Living
Jobless and forced home to Wisconsin, journalist Sabrina Monroe can tolerate reunions with frenemies and kisses from old boyfriends, but not the literal ghosts that greet her in this heartwarming tale of the power of love and connection from acclaimed author Amy E. Reichert.
For Sabrina Monroe, moving back home to the Wisconsin Dells–the self-described Waterpark Capital of the World–means returning to the Monroe family curse: the women in her family can see spirits who come to them for help with unfinished business. But Sabrina's always redirected the needy spirits to her mom, who's much better suited for the job. The one exception has always been Molly, a bubbly rom-com loving ghost, who stuck by Sabrina's side all through her lonely childhood.
Her personal life starts looking up when Ray, the new local restaurateur, invites Sabrina to his supper club, where he flirts with her over his famous Brandy Old-Fashioneds. He's charming and handsome, but Sabrina tells herself she doesn't have time for romance–she needs to focus on finding a job. Except the longer she's in the Dells, the harder it is to resist her feelings for Ray. Who can turn down a cute guy with a fondness for rescue dogs and an obsession with perfecting his fried cheese curds recipe?
When the Dells starts to feel like home for the first time and with Ray in her corner, Sabrina begins to realize that she can make a difference and help others wherever she is.