The Layover by Lacie Waldon: If you are looking for a super fun read that ticks the super hot guy boxes, then The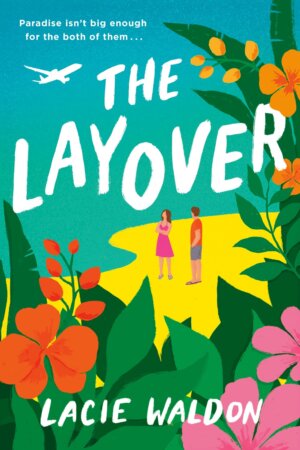 Layover is definitely a great summer RomCom choice for you. Getting engaged to straight laced Alexander is just what Ava's doctor ordered, particularly in light of the stable, steady routinized life he offers which runs counter to her gypsy-style upbringing and the subsequent childhood baggage she carried with her into her adult life. Upon waking up an engaged woman, Ava prepares for her last ever flight to Belize, convincing herself emotionally to have the best working day possible and enjoy every minute of her last shift. Until of course she realises that Jack Stone, whom she has despised for years, is also one of the three crew members working with her.
What starts out with an almost brutal car-parking exchange, turns quickly into a full shift of insult and competition as Jack continues to rub Ava up the wrong way. And yet what lurks beneath the offensive banter is perhaps a scent of playfulness that may just evolve into something far more passionate and unexpected for the both of them.
Ava's backstory and motivations were relatively well drawn, and whilst Alexander didn't get much air-time, it was clear his concept of marriage was to have a kept woman who would accessorise his arm at his various legal functions. And for Ava, this appeared to be what she desperately wanted – a life of luxuriant domestication that gave her the type of stability she craved.
Throughout, Jack's story developed as a slow burn and whilst it was fun to play along with Ava's obvious disdain towards him, it was evident there was a lot more going on, including his ongoing amusement at Ava's attempts to get under his skin. Cast initially as a morally loose cad who was intent on sleeping with as many colleagues as possible, it was clear as things gained momentum, that he was anything but. Using self-deprecation and some glib situational comedy, the balance between humour and romance was relatively effective and there were some great one liners that drew some laugh out-loud moments.
Overall, the simple plot, predictable action kernels and romance played well together and the happily ever after, whilst expected, was entirely enjoyable to the very end. And for those who love to dream of a balmy Central American getaway, I suggest you pack your bags and get on board with this one, as the easy summer vibe and location was a huge bonus to the sweet romance that unfolds.

Book Info:

Publication: 15th July 2021 | Putnam |
After ten years as a flight attendant, Ava Greene is poised to hang up her wings and finally put down roots. She's got one trip left before she bids her old life farewell, and she plans to enjoy every second of it. But then she discovers that former pilot Jack Stone — the absurdly gorgeous, ridiculously cocky man she's held a secret grudge against for years — is on her flight. And he has the nerve to flirt with her, as if he doesn't remember the role he played in the most humiliating night of her life. Good thing she never has to see him again after they land….
But when their plane encounters mechanical problems, what should have been a quick stop at the Belize airport suddenly becomes a weekend layover. Getting stuck on a three-hour flight with her nemesis was bad enough. Being stranded with him at a luxury resort in paradise? Even with the sultry breeze and white sand to distract her, it will take all the rum punch in the country to drown out his larger-than-life presence.
Yet the more time Ava spends with him under the hot Caribbean sun, the more she begins to second-guess everything she thought she knew about him… and everything she thought she wanted from her life. And all too soon, she might have to choose between keeping her feet on the ground and her head in the clouds….