In The Librarian's Vampire Assistant (The Librarian's Vampire Assistant #1) by Mimi Jean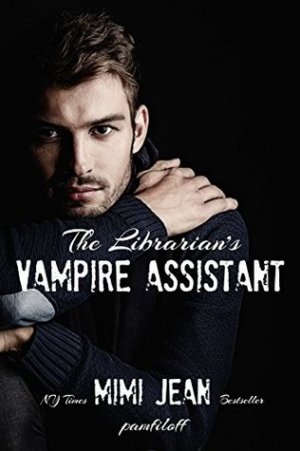 Pamfiloff, Michael Vanderhorst's very long existence as a vampire is thanks to his maker Clive Bakker. Part friend, part father figure, part colleague, Clive has always been there for him through every situation. So when Michael finds out Clive has been murdered, he vows to find the person responsible and make them pay. Only, he didn't realize that it would take him to horrifically hot, suntastic Phoenix. Or that the vampires there would put him off and not seem to take an interest in finding Clive's murderer. And that just doesn't sit well with Michael.
'My priorities feel all jumbled, and I do not like it one bit. Family and loyalty are everything and must always come first. Nevertheless, something inside me wants to forget all that and ensure my librarian will be safe.'
Michael has a feeling he's going to regret traveling to Phoenix considering right out of the gate he finds himself trying to rescue damsel in distress Miriam. The librarian brings out a protective side that puzzles him. And boy does she need protecting. Michael's never seen someone so unconsciously intent on doing themselves harm before. But when he begins to learn more about his librarian and the trouble following her around, his investigation into Clive's murder seems to cross paths with Mariam's issues. Armed with the tricks he's learned from many having careers over the decades, his eccentric assistant Lula–who won't stop calling him Mikey, much to his dismay–and some key contacts in the vampire council, Michael hopes to solve the mystery before anyone else winds up dead.
"Tell me what the hell is going on, or I will walk right out that door and this–" she toggles her finger between us "–is over."
"I'm not quite sure what you mean."
Her nostrils flare, and she leans towards me. "Mother-effer, I am the mother-effing librarian. Which means I'm well-read and no dummy. So cut the crap."
The Librarian's Vampire Assistant was something totally new from the one and only Mimi Jean Pamfiloff. Kind of a cross between a Paranormal and a Cozy Mystery–a Paranormal Mystery?–I had an absolute blast meeting these characters and going on a wild ride with our wonderful hero Mikey, ahem, Michael.
'Mariam is a mystery as much as a blessing, and I am grateful for whatever forces have brought her into my life.'
I've become a huge fan of MJP's work over the last few years so when she said she was releasing something different than she's ever written before, I was intrigued. And she wasn't wrong. There wasn't romance or even the sexy time scenes typically found in Pamfiloff's books (sorry ladies!) but instead there was an abundance of Michael's introspection upon losing his close friend Clive, plus tons of clues to puzzle together to find Clive's killer. You can certainly tell she had fun with the twisting and turning storyline as well as the cast of characters she created. And in response, I think readers are going to adore Michael and the rest of his cohorts.
Michael was an awesome hero. Seriously. Ever the gentleman, he had old school charm, mainly due to the fact that he was a couple centuries old. He believed in loyalty and family, and he tried to do the right thing as often as possible. Although Michael did lose his temper and made some blunders, his heart was in the right place in the majority of his decisions. I had to laugh at his aversion to modern clothing, technology (unless it suited his needs), and that he was unimpressed with electric/hybrid cars (his nicknames for his rental car, a Prius I'm guessing, were hysterical). There were lots of little bits of humor tucked into the scenes–especially with Michael's inner monologues–that had me laughing. Although it wasn't quite as slapstick funny as MJP's stories typically are, I thought the subtle humor worked well for this book.
The other characters were every bit as multidimensional as Michael was and it was a hoot learning more about them. There were moments when I wondered if he would tip over the edge and fall for his klutzy librarian Miriam or his kooky assistant Lula, but I have a feeling that's going to come into play in future books. His two main ladies were quite different from each other although both made a huge impact on Michael's life. I think one character readers will latch onto will be Mr. Nice, who we meet towards the end. He was part of the vampire council and was so funny, so offbeat, that you'll have his accent stuck in your head for a while once you finish reading. And I loved that MJP even had a scene involving Mr. Nice where she name dropped her own name. (lol!)
I definitely need more of this series in my life. The Librarian's Vampire Assistant was a terrific start to a refreshing new series that promises intrigue, some laughs, and tons of genuine emotion.
Book Info:

Publication: Published February 26th 2018 | Mimi Boutique | The Librarian's Vampire Assistant #1
From New York Times Bestseller Mimi Jean Pamfiloff comes a Horribly Sunny Mystery, The Librarian's Vampire Assistant.
NOBODY MESSES WITH HIS LIBRARIAN. . .
Who killed Michael Vanderhorst's maker? It's a darn good question. But when the trail brings Michael to hellishly sunny Phoenix, Arizona, his biggest problem soon becomes a cute little librarian he can't seem to stay away from. He's never met a bigger danger magnet! Even her book cart has it out for her. And is that the drug cartel following her around, too? "Dear God, woman! What have you gotten yourself into?"
Things go from bad to worse when local vampires won't play nice.
Can this four-hundred-year-old vampire keep his librarian safe and himself out of hot water? Can he bring his maker's killer to justice? Yesterday, he would've said yes. But yesterday, he didn't have a strange connection with a librarian. Yesterday, people weren't trying to kill her.