The Love Cure by Cara Lockwood is a sexy one night stand romance that turns into something more.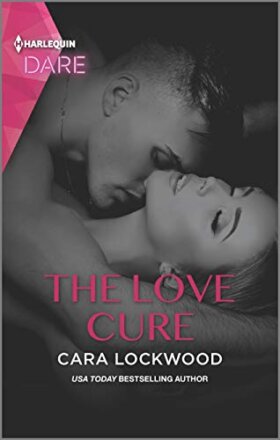 Cecily Nichols has nothing left to lose. The cancer in her body is untreatable, or so her doctor says, and she's determined to accomplish everything on her bucket list before her time is up. And the first thing she's going to tackle is spending a night with a sexy stranger.
Liam Lange doesn't know what's brought this vision into the pub he's at but he's definitely not going to turn down an invitation from her for a night together. Yet after a very satisfying evening, when he discovers her gone in the morning he's not ready for it to be over. Discovering that in her hurry to leave Cecily had left her phone behind, he's able to return it to her – and convince her that they should keep seeing each other. But will Cecily's illness bring things to a quick end?
Going into a romance where the main character is revealed to have a (possible) terminal illness requires the reader to take a leap of faith that things will turn out okay in the end (and they must, or else the HEA will be in doubt). How the characters get to that happy ending though is what makes the story readable and enjoyable (even if in a real situation it probably wouldn't turn out that way).
Liam is estranged from most of his family due to what happened with the inheritance when his father passed away and his half brother took over their family communications company. But if he's going to help Cecily with some possible treatment, he'll need to find a way to make amends. Their family drama is a key part of the story. Cecily has a much better relationship with her mother so she is able to be a sounding board for Liam when he needs to discuss his family problems. Though they started with a physical connection, it's their emotional connection that becomes just as important. After a few ups and downs they get a well deserved happy ever after. I enjoyed this story, and I look forward to reading more from this author!
Book Info:

Publication: Mar 01, 2021 | Harlequin Dare |
Years ago, Liam Lange walked away from his family's fortune and lived like a recluse. But everything changed after a wild night with a stranger. Was it the bed-breaking desire, the fact that they'd just met…or was it the woman herself?
Cecily Nichols walked into the bar like a storm and swept him into a mind-numbing night of physical release and intimacy he'd never experienced. He didn't ever want her to leave. And by the time she did, he started to figure out her secret and why she was determined to live life to its fullest. Diagnosed with one year left to live, Cecily cut right to the root of her desire—to rejoice in Liam wholeheartedly. And leave before things got too tragic.
But their wild chemistry defied logic and no matter where they were—wrinkling satin sheets or kissing on top of the Empire State Building—their bond strengthened. Do they weather the good and the bad together…or cut off their deepening love to protect each other?