In The Love Hypothesis by Ali Hazelwood, Stanford University grad student Olive Smith thought she knew what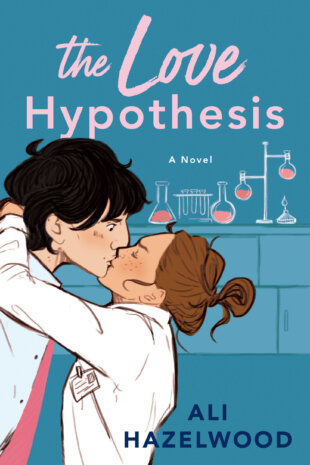 she was getting into when she came up with a basic plan for nudging her BFF Anh into the arms of Olive's ex-boyfriend. Jeremy and Anh are meant to be together. Anyone can see the sparks. Lord knows they didn't exist between Olive and Jeremy at all. But when the plan calls for her to find a willing participant in her scheme of fake-dating, the last person she would have thought of is Dr. Adam Carlsen. The broodiest, most (supposedly) hateful professor-slash-advisor on campus. But in a moment of panic, Adam is the guy Olive reaches up–way, way up…talk about tall!–and kisses. On the lips. Cue a freakout of epic proportions in three, two, one…
'She actually managed to make him laugh, and–it didn't just transform his face, it changed the entire space they were inhabiting. Olive had to convince her lungs not to stop working.'
To Olive's complete surprise, Adam backs her up on her lies. Not sure what his angle is, she gets him to agree to a few quick public dates to help solidify their supposed relationship in front of colleagues and students alike. After an awkward start, Olive actually enjoys the majority of their time together. Well, aside from when her friends intervene and tease them mercilessly. Then the experiment goes awry. As things tend to do around Olive. Advancement in her research project is thrown sideways thanks to a misogynistic jerk and his Neanderthal brain. When Adam intervenes, basically disproving every misconception about him, Olive realizes what they have between them is very, very much real.
'He kisses, Olive thought, like a man starved. Like he'd been waiting all this time. Holding back.'
The Love Hypothesis has to be the most adorable, geektastic–but most importantly–smartly written debut I've read in…forever. Author Ali Hazelwood wowed me with a diverse cast that was quirky enough to make me grin, and with a wicked smart heroine who got herself into a predicament that you could tell was going to blow up in her face. And you know what? It was worth every sharp intake of breath, giggle-snort, and sigh of relief experienced.
'HYPOTHESIS: When given a choice between A (a slightly inconveniencing situation) and B (a colossal shitshow with devastating consequences), I will inevitably end up selecting B.'
This. Book. I am so in love with everything about it. I mean, first of all, get a load of that book cover! It's perfectly modern as well as being a scene ripped right from the story itself. And then there's the cast, most of whom I adored right away: Olive, Anh, Malcolm, Holden, and yes…even the Darcy-like Adam. The dialogue between them all was on point and seemed genuine, not forced. Including the good-natured teasing and nosiness from Olive's friends while she was fake-dating Adam–the "fake" part being unbeknownst to (most of) them.
On top of the cast of characters that I'd love to hang out with in real life, Hazelwood's storytelling was amazing. What could have been a straight up rom-com was peppered with bits of serious subjects and authentic situations that most of us will understand all too well. And it made The Love Hypothesis a multilayered story. One that explored a wide array of issues but ultimately was a sweet, oh so satisfying romance that warmed my heart.
An absolutely stellar fake romance between a grumpy professor and a well-meaning grad student, The Love Hypothesis was everything I love about contemporary romance. I think Ali Hazelwood's entertaining but still emotionally deep writing will spell nothing but success for her.
Book Info:

Publication: Expected publication: September 14th 2021 | Berkley Books |
When a fake relationship between scientists meets the irresistible force of attraction, it throws one woman's carefully calculated theories on love into chaos.
As a third-year Ph.D. candidate, Olive Smith doesn't believe in lasting romantic relationships–but her best friend does, and that's what got her into this situation. Convincing Anh that Olive is dating and well on her way to a happily ever after was always going to take more than hand-wavy Jedi mind tricks: Scientists require proof. So, like any self-respecting biologist, Olive panics and kisses the first man she sees.
That man is none other than Adam Carlsen, a young hotshot professor–and well-known ass. Which is why Olive is positively floored when Stanford's reigning lab tyrant agrees to keep her charade a secret and be her fake boyfriend. But when a big science conference goes haywire, putting Olive's career on the Bunsen burner, Adam surprises her again with his unyielding support and even more unyielding…six-pack abs.
Suddenly their little experiment feels dangerously close to combustion. And Olive discovers that the only thing more complicated than a hypothesis on love is putting her own heart under the microscope.