In The Loving Daylights (B.L.I.S.S. #3) by Lynsay Sands, Jane Spyrus comes from a long line of spies who have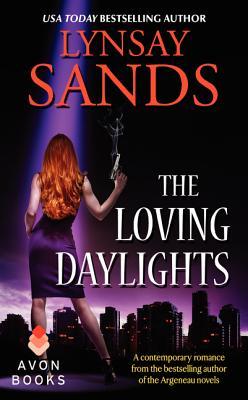 worked for B.L.I.S.S, a company devoted to fighting crime across the globe. She has chosen to work behind the scenes, however, as an inventor of the many gadgets that helps save the lives of her fellow coworkers. Jane has never considered herself strong or forthright enough to be a spy like her late parents or her Gran, Maggie. Knowing how dangerous it can be–and seeing firsthand with her Gran's partial paralysis–has kept Jane in the lab instead of in the field.
'Jane closed her eyes, rubbed her forehead, and wondered how everything had gotten so out of control. Normally, she led the most serene life. Well, aside from nearly blowing off coworker's heads with her inventions.'
But when Jane's close friend Edie goes missing and is believed to be kidnapped, Jane begins a rescue mission. With the help of Gran, Edie's older brother Abel, Gran's Yorkshire terrier Tinkles, and Edie's cat Mr. Tibbs, one dilemma after another occurs on their way to find Edie. Plus, spending time so close to hunky Abel starts messing with Jane's concentration…and heart. When B.L.I.S.S. gets a whiff of the situation, Jane finds herself as the lead agent as they go up against a family with nefarious intent. Hopefully with some luck, and a lot of Jane's inventions, they can save Edie and not get themselves killed.
His gaze softened. "You'd do a lot for those you love, wouldn't you?"
"I'd die for those I love," she agreed solemnly. "But I'd rather not."
Abel felt a quirky smile pull at his lips. "Jane Spyrus, you are something else. I think I 'm falling in love with you."
The Loving Daylights is a one-two punch of action and hilarity. Only the super talented Lynsay Sands could write a romantic spy novel with such quirky characters and have it work so well.
'The world was counting on her and Gran to save them. A techno-geek and a half-paralyzed ex-spy. Oh, this was just great.'
I will start off by saying that this book may not be for everyone. I personally happen to love screwball comedies where the characters are smart but klutzy, and a little goofy but still lovable. And that's exactly what Jane and the rest of the characters are like, so this worked for me, keeping me laughing continuously. I really thought Jane was sort of like a modern day Maxwell Smart (from Get Smart). She was a tech-genius who created all sorts of cool gadgets. However, in this reissued novel she got her turn at being a spy and realized she liked the rush of making the decisions and tracking down the bad guys. Jane also fond herself in a lot of slapstick-type situations that made for some entertaining reading.
There is also a lot of heart in Jane, Gran, Edie, and Abel's story. I loved Jane's devotion in taking care of her Gran, making sure she was as safe as possible through the whole process. Even if Gran's little dog, the evil Tinkles, made life difficult at every turn. It was really nice to see such a genuinely kindhearted person portrayed here with Jane, willing to drop everything to track down her good friend Edie. And I got such a kick out of Abel. He was another kind soul who just wanted to have his sister Edie safe, but he ended up falling for Jane along the way. They had a sweet connection once they figured out they could trust each other. I thought Ms. Sands did a great job of creating a hero and heroine who were enough alike to work, but with enough differences to make life interesting for them.
If you're looking for a romance that's a little bit offbeat but is very well-written, give The Loving Daylights a try. How can you go wrong with spy-action, new-found love, and one zany predicament after another?
Book Info:

Published December 30th 2014 by Avon Books (first published April 1st 2003) |  (B.L.I.S.S. #3)
New York Times bestselling author Lynsay Sands delivers a "madcap escapade" (Publishers Weekly) in this contemporary romance about a quirky inventor and unexpected love.
Shy Jane Spyrus loves gadgets. She can build anything B.L.I.S.S. needs in the international organization's fight against crime–although its agents aren't exactly lining up at her door. Some of them think her inventions are a little too . . . well, innovative. Like her shrink-wrap prophylactic constraints or her spray-on truth serum.
Of course, you can't use wacky inventions to fix all your problems; Jane knows that better than anyone. Her neighbor has been kidnapped, driving that point home. She will have to team up with another human being–and Abel Andretti arrives just in time. He will help Jane find her neighbor, stop a villain, and, most of all, he will show Jane how to love the daylights out of something without batteries.