The Daughter He Wanted by Kristina Knight: One letter can change everything and when notice is sent too early?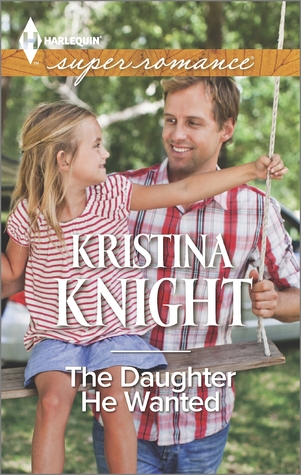 Worlds shift for the second time.
Paige Kenner was content to be a single mom. She had made a fairly big mess of her youth and was determined that now as an adult she would make the right choices. One of her choices had included a trip to the fertility clinic and had resulted in her precious daughter, the one she didn't know if she could live without at this point. As a small town art teacher, a single mom and an upstanding citizen she wasn't sure that life could get much better.
Alex Ryan had been living in a fog for the past four years or so. His wife, the love of his life, had passed away from cancer leaving him with no one, except his in laws. Before the cancer had hit though they had talked about starting a family and had even visited a clinic. Now as a widower and a park ranger he was just going through the motions.
One letter. One "human" error. On mistake that changes everything. Does Alex really have a daughter? Does Paige's little girl really have a father that lives just around the corner? When Paige and Alex meet they realize quickly that things are a lot more questionable than just parental rights. Will they be able to see the family that they could become or are they both too busy living in their pasts?
Ms. Knight has certainly played with emotions in this roller coaster of a novel. This is a heart wrenching book full of ups and downs and so many frustrations that it may have you tearing your heart out in a good way. Meaning that it is so well written it's easy to see this playing out, and unfortunately does make one want to murder Alex for some of his stupidity. However it does make the ending all the more sweet. This is a great novel for someone who wants to immerse themselves into a novel about love and the real meaning of family.
Book Info:

Publication: January 6th 2015 by Harlequin Super Romance Series #1971
The Daddy Surprise
Since the loss of his wife, Alex Ryan has been living a half-life. But with one phone call, Alex discovers he's the biological father of a four-year-old girl…and everything changes.
Single mom Paige Kenner preferred to have a family without the man. Now suddenly there's Alex, who desperately wants to be a father to her little girl. A gorgeous, kind and committed father. Letting a stranger into their lives is far too dangerous—especially if his presence stirs a part of Paige that she longs to forget…