In The Lucky Escape by Laura Jane Williams, What is a dreamy, happy bride supposed to do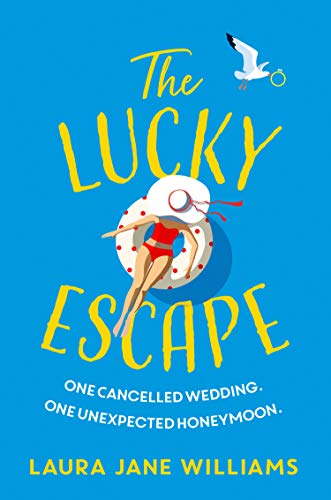 when she finds out from the wedding planner–at the church, no less–that her fiance's done a runner? Taking the already-paid-for honeymoon to Australia definitely wasn't Annie's first thought. Yet that's what she finds herself doing, at the request of her ex-fiance's parents. And that's not even the most unusual part. The person Annie takes as her strictly platonic traveling companion ends up being a man she knew back when they were teens, Patrick Hummingbird. A guy who was always kind to her and who has shown her compassion and brought laughter to her life again recently, even in the midst of a personal crisis.
"What do you mean he's not coming?"
"Urm…" Happy stalled, uncomfortably. "He messaged me. And it seems he's had…a change of heart."
Using the trip across Australia as a way to get to know each other again and solidify their found-again friendship, Annie and Patrick go from one coast to the other, starting in picturesque Margaret River. Each new adventure they go on becomes a way to find out who she is now, post breakup. And Annie has to admit that she sadly has lost herself over the years, not realizing how unhappy she's been until now. But with Patrick to make her smile and push her to try things she normally wouldn't, Annie feels like she's finally on the right path. Where that will take her–and who might meander along with her–remains to be seen. But she's taking the first steps, and that's what counts.
'I'd been holding my breath, seeking approval to exist, taking as little space as possible and being who everyone else told me I was instead of who I am. And I was over it.'
A jilted bride. An all expenses-paid honeymoon. A newly rekindled friendship. And a whole lot of soul searching. The Lucky Escape took all of that, wrapped it up in the myriad emotions that come from a break up and unraveled it all while trekking across Australia.
'Did I have to be strong? How long could I let myself feel weak? Was there a formula for moving forward? A secret 'Jilted Brides' handbook I could buy with next-day delivery?'
The Lucky Escape had quite an interesting premise which seemed like it could go in a few ways, but ended up a mix of humor and heartfelt emotion. And overall I enjoyed the story, the characters, and the outcome. It was the middle part–and the heroine's carelessness towards the end–that I had to muddle through.
I truly did enjoy Laura Jane Williams' writing style. It was fresh, had some fun moments between Annie and her younger sister Freddie (LOVED Freddie!) as well as with lovable Patrick. There were some sweet and tender scenes that were worthy of shedding a tear. So there was a nice blend of feelings mixed into every part of Annie's journey. The best part for me was watching her "relearn" who she used to be while on her trip. She figured out what she liked about herself, worked through why she had changed over the years, and tried to become the person she felt she was deep inside.
Annie definitely grew leaps and bounds. The part that gave me pause was the callus way she treated one of the pivotal characters in the last quarter of the book when the honeymoon was over and she was back to her "real life" in London. It was resolved pretty quickly. But I honestly wasn't a fan of how Annie got stuck in her head and didn't think of how her actions affected her loved ones. Otherwise, it was a contemporary book that captured my attention and that will certainly have me looking into author Laura Jane Williams' backlist soon.
QOTD: In a situation like Annie's–jilted at the altar, the (incredible) honeymoon paid for, and being encouraged by the groom's parents to still go–would you have gone on the trip? If so, who would you have taken with you?
Book Info:

Publication: November 9th, 2019 (First published June 10th, 2021) | Avon |
ONE CANCELLED WEDDING
When the day finally comes for Annie to marry Alexander, the last thing she expects is to be left standing at the altar. She was so sure he was Mr Right. Now, she has no idea how she could have got it so wrong.
ONE UNEXPECTED ENCOUNTER
After a chance meeting with Paddy, an old friend who reminds her of who she used to be, Annie takes a vow of her own: she'll say yes to every opportunity that comes her way from now on.
ONE SPARE TICKET FOR THE HONEYMOON
Could a spontaneous trip with Paddy be the way to mend Annie's heart? She's about to find out as she embarks on her honeymoon – with a man who's not her husband…