The Magic of Found Objects by Maddie Dawson: Born into a contrasting world of freedom and stoicism, Woodstock versus Farm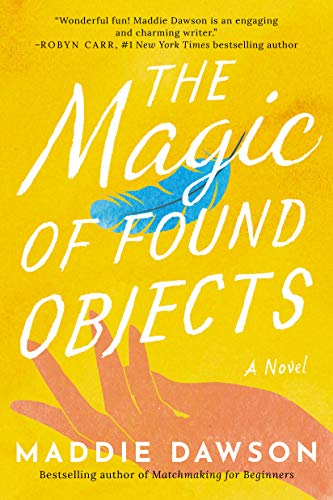 living, Phronsie agrees to marry her best friend Judd, who proposes randomly one night at their local diner figuring this is the sanest thing either of them have considered their entire dating lives.
As Phronsie ponders the pros and cons and deftly handles her past broken heart, she determines that her decision is the safest most comfortable option in every way – he's great with babies after all. Hitch is, a work junket sends her into a whirlwind spin and she vicariously examines more than just her broken heart to understand her inherent capacity for distrust as a result of operating in her dual world. An whilst the journey doesn't necessarily go to plan, it is clear that for Phronsie, it was absolutely necessary as the lessons she learns about herself and her complex family, despite at times doing her best to ignore them, were life changers.
Punctuated with back narrative from her childhood, and details of how her and her twin Hendrix came into being, the trauma of abandonment and the nature of love itself were explored thoroughly. Throughout, there were many powerful moments that were breathtaking, and at times her grandmother Bunny's wisdom was a showstopper along with a collective belief that we all deserve to fall in love irrespective of what the 'should of' narrative of social convention tells us.
Whilst an epilogue was sadly missing, and desperately so, there was a perfect sense of happily ever after that descended in the final chapters. Overall, the theme of speaking your truth and relying on the inner wisdom to do so, was fundamental, and without a doubt, the inherent multiple layers of family, love and friendship were explored with gusto. Subsequently, I highly recommend the Magic of Found Objects, for it reminds us to be as graceful as we can be when on the path to discovering who we really are and what it is our hearts really desire.
Book Info:

Publication: 1st August 2021 | Lake Union Publishing |
Phronsie Linnelle was conceived at Woodstock in a serendipitous liaison between a free-spirited hippie and a farmer's son and was born with magical wonder flickering in her DNA and rationality knit into her bones. All her life she's been torn between the two. But now that she's been betrayed by both love and the mother she once idolized, her rational side is winning.
So when her best friend from childhood proposes that they give up on romance and marry each other, Phronsie agrees. Who better to spend your life with than your best friend? Maybe the connection they already have is love. Maybe there's no falling to be done. But immediately after they announce their engagement, she encounters someone who makes a very charming and compelling argument for revisiting romance.
While her even-keeled stepmother argues for the safety that comes with her new engagement and her mother relays messages from the universe to hold out for true love, Phronsie must look to her own heart to find the answers that have been there all along.