The Magnate's Holiday Proposal by Rebecca Winters: How do you say no to a little boy with a special request? Especially a little boy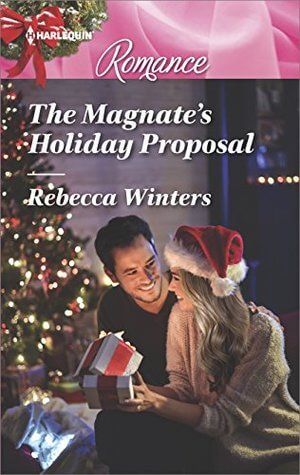 with a brain tumor?
Gabriella Parisi did not know how to say no. With her history with children it was even harder. She just wanted this little boy to have the world. Between her history and her heart would she leave in one peace when all was said and done?
Luca Berettini wanted to give his little boy the world. When the accident that took his wife happened he realized even more how fragile life could be and now that he was facing his son's brain tumor? Well he would move heaven and earth to give him whatever it was that he wanted.
Luca and Gabriella were united in their love for this little boy, but would that be enough? Not to mention what would happen once the tumor was removed?
This was a hard book. The writing unlike Ms. Winters others' and not in a good way. Unfortunately this book is very stilted and hard to work through as a story. There isn't much to recommend this as a read other than there is a sort of happy ending and a sort of resolution. Spoiler though *** the little boy does turn out alright ****

Book Info:

Publication: December 1st 2017 | Harlequin Romance |
Can he find his son a mommy for Christmas?
Ever since Italian CEO Luca Berettini tragically lost his wife, he's been dedicated to keeping his sick son happy and healthy. But when Dino asks a charity to grant him a wish, Luca's Christmas is turned on its head!
Gabi Parisi is moved by Dino's letter and desperate to help the boy, whose experience reminds her of her childhood. She's swept away by Dino and his handsome, loving single dad but has no idea how to grant Dino's wish—until Luca makes her a very special Christmas proposal…