In Someone to Wed (Westcott #3) by Mary Balogh, While the scandal that turned Alexander Westcott into the new Earl of Riverdale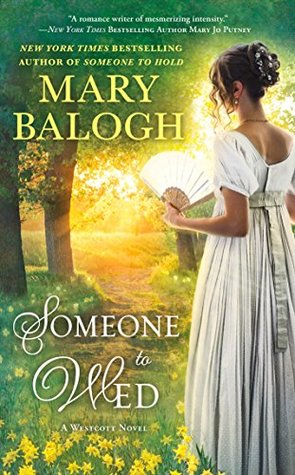 may have subsided a bit, his work to fix the estate he inherited has only begun. He is a man who takes very seriously the protection and care of those who count on him. So Alex knows in order to have the funds for the necessary repairs for his tenants and his own shoddy family estate he'll need to marry well. He was hoping to at least find a woman with whom he could share affection; someone he could come to care for. Never did Alex expect to have a woman come to *him* with a proposal that was more of a business deal, but that is what Wren Heyden did. And it threw him off course completely. But as he watches her reveal her true marred self to him and make lasting connections with his beloved family, Alex wonders if he can do anything but trust his instincts and agree to marry Wren.
"I am sorry, Alexander," she said, her voice without expression. "I am horribly, horribly damaged… Too deep to be touched or healed. I am sorry."
He felt chilled to the heart. Some suffering was beyond help. He knew that. But he would not believe it. Not of Wren. Not of the woman who was becoming more precious to him with every passing day.
The past year has been one of the loneliest in Wren's life. And that's saying something, considering she's been a recluse for over two decades after her disastrous childhood. But losing her loving aunt and uncle so close together made her realize how lucky she had been to have them in her life. And now Wren has decided to search for a husband, to feel that human connection once more. Taking over her uncle's glassworks business has made her a wealthy woman and she intends to use that to entice a gentleman into accepting her proposal. Wren is not sure the Earl of Riverdale will be a suitable match when they first meet as he is absolute perfection. And she…is not. But after a rocky courtship, one which forces her to be seen in public and interact with his family, plans are made for them to wed. Wren is hopeful that Alexander will continue to be the respectful, kind man he appears to be and that they will forge a relationship based on mutual trust–and possibly even love one day.
"Do not think I am unaware of the magnitude of what you have agreed to and what you have suggested. I honor you. I only hope I can be worthy of you."
And here she went, tearing up again. This was becoming a nasty habit. She set her hand in his. "But I may well flee before our wedding day," she said just as softly.
"Please don't." He chuckled.
Someone to Wed was an absolutely lovely marriage of convenience trope, a Regency romance by the one and only Mary Balogh. Two strong, independent lead characters and two very different family issues made for an intriguing plot filled with tension as well as the perfect amount of drama.
"Do you value yourself so little that you believe only your money gives you any worth at all?"
She was taking the question seriously, he could see. She was thinking about it. "Yes," she said.
I've become a huge fan of Mary Balogh's work thanks to her attention to detail and the multidimensional characters she creates. Our hero and heroine, Alexander and Wren, were definitely complex individuals who were both facing their own issues down, trying to do what was right. I loved watching how they changed over the course of this story and how they brought out the best qualities in each other. Things started off very, very, *very* slowly between Wren and Alex, with their potential marriage being a cold business transaction rather than being based on any emotional attachment. Oh, but how things changed once Alexander and Wren began to truly get know each other. And that was the point–about halfway through–where I started cheering them on in earnest.
Without giving away exactly what was holding back Wren for a good portion of the story, I can say that it was both a physical and an emotional issue. Even though she seemed to be rather cool and aloof, I could empathize with Wren's social anxiety and especially over what caused her to become a recluse. Her past was one riddled with harsh treatment and of being shunned. And her entire world crumbled when her beloved aunt and uncle, who raised her, died within a short time of each other. Wren longed for acceptance and, quite honestly, human touch. Hence her plot to "buy" a husband. Which didn't turn out exactly as she had planned. In a good way.
Alexander was a solid hero. Balogh added depth to his personality compared to what we had seen in previous books, making him a true gentleman full of loyalty and principles. I loved that he was impressed by Wren's forthrightness and her intelligence. It didn't scare off Alex–even the fact that she was a businesswoman–but instead intrigued him. He had a lot on his broad shoulders with having just become an Earl and all that entailed with the new estate to overhaul on limited funds. I really liked that Alex was honest with himself about not wanting to have to marry for money but being realistic enough to know it was likely in his future. I thought his marriage to Wren was actually a nice compromise in the long run: he got the funds he needed to help his tenants but he also got a relationship with a woman who challenged him and showed him respect and affection.
Someone to Wed brought out a multitude of emotions as only Mary Balogh can do in her touching stories. It explored the power of friendship and acceptance, while showing readers that love can happen when it's least expected. Highly recommended.

Book Info:

Publication: Published November 7th 2017 | Berkley | Westcott #3
A very practical marriage makes Alexander Westcott question his heart in the latest Regency romance from the New York Times bestselling author of Someone to Hold.
When Alexander Westcott becomes the new Earl of Riverdale, he inherits a title he never wanted and a failing country estate he can't afford. But he fully intends to do everything in his power to undo years of neglect and give the people who depend on him a better life. . . .
A recluse for more than twenty years, Wren Heyden wants one thing out of life: marriage. With her vast fortune, she sets her sights on buying a husband. But when she makes the desperate—and oh-so-dashing—earl a startlingly unexpected proposal, Alex will only agree to a proper courtship, hoping for at least friendship and respect to develop between them. He is totally unprepared for the desire that overwhelms him when Wren finally lifts the veils that hide the secrets of her past. . . .