In The Marine's Secret Daughter by Carrie Nichols, Marine Sergeant Riley Cooper has returned home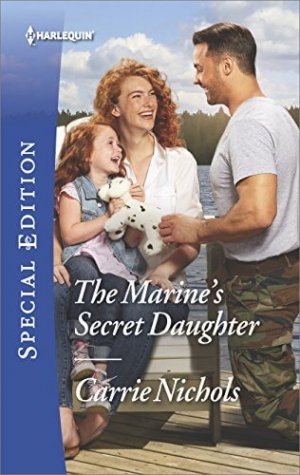 from Afghanistan after watching one of his men sacrifice his life to save his. Ordered to take thirty days off, he returned to his hometown where he hasn't been for six years. The last thing person he expects to see when he reaches his rented cabin is Meghan McBride, his former best friend's little sister, and the woman he had a fling with before he deployed.
Meghan wasn't expecting to see Riley, even though she longed to see him again. But his return brings another complication–how to tell him about Fiona. When Riley realizes the little girl is his daughter, will he be able to forgive her for keeping it from him for so long? And when his thirty days are up, will be able to bring himself to leave Meg and his little girl again?
I really enjoyed this story. It has both heartbreaking and heartwarming moments. Riley has been through hell and back, both with what he went through with his parents during his childhood and with his time in the Marines. Meg has her own struggles, including being pregnant while dealing with her dying mother, and then having to help her brother and father through the loss. She also had to deal with Riley leaving her behind. When the pair reunites, they not only have to deal with their pasts, but come together to figure out their futures.
I enjoyed Fiona's interactions with Riley. Even though she didn't know he was her father, she was always excited to see him. The scene where she gives him her favorite animal to keep his fear at bay was very sweet.
I was a bit annoyed with both Meg and Riley. I felt Meg should have revealed the truth to Riley earlier, so it wouldn't have come out the way it did. I also felt Riley wasn't fair in blaming Meg for not trying to reach him to tell him, when, in fact, she had written him multiple times and he simple returned the letters, unread. They both were at fault.
The Marine's Secret Daughter is a well-written story with characters readers can sympathize with and root for. If you enjoy second chance romances, this one is for you..

Book Info:

Publication: February 1, 2018 | Harlequin Special Edition | Small-Town Sweethearts
Years have passed since marine sergeant Riley Cooper last held his best friend's sister in his arms. Bound for Afghanistan, he believed walking away from Meg McBride was the kindest thing he could do. Now that he's home, he doesn't blame Meggie for hating him. But she hasn't told him everything. And he hasn't met the little red-haired girl whose gray eyes so resemble his own…