In The Master (The Game Maker #2) by Kresley Cole, Catarina Marín never thought she'd sink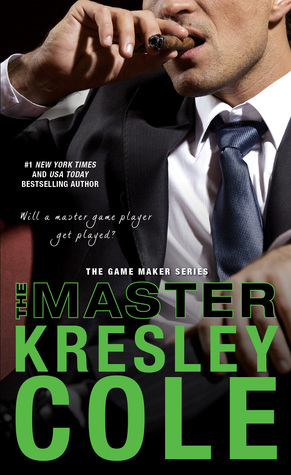 so low as to work as an escort to make money, but when the opportunity is handed to her, she can't refuse. This will hopefully be the catalyst to earn enough money to get her out of Miami and on to a safer city. Away from the man haunting her nightmares. Cat's one and only night of getting paid (handsomely) to do the deed will be with a billionaire Russian playboy who looks like he just stepped off the cover of GQ. But Maksimilian Sevastyan might even be a little too much for her to handle.
He stared down at my face, brows drawn, as if I'd confounded him. "You're making me lose control," he said, as if he knew how much I'd craved a man to do just that.
Cat can tell that Maximo likes to exercise control in all areas of his life. Too bad she's never been able to keep her big mouth shut and take orders. Even from an insanely hot dominant Russian who is offering her a night pleasure, the likes of which she's never experienced before. But one night with Maximo shakes Cat to her very core as she rethinks her rule of never trusting a man again. Hopefully she won't regret it as secrets from her past return to haunt her and Maximo begins to question her evasion of her past.
'Never would I have imagined that staying with a Russian mobster and his armed henchmen would be my safest play.'
Kresley Cole has proven herself to be The Master with this incredibly provocative erotic story. Pairing up a vivacious Latina woman and a DDG (drop dead gorgeous) Russian billionaire is about as sexy as it can get. Holy. Hotness.
'I sensed in him a seething need for me, barely contained–and building. Another woman might fear it; I drank it in like wine.'
I am not kidding when I say that Cat and Maximo's story ranks up there with the steamiest I've read. And it wasn't just the sexy-time scenes, either. Their rapport together was filled with sparks of intelligence, humor, and tension that was so good it should have been illegal. From the moment they met it was obvious that they not only had each other's number, but that they wouldn't be able to simply walk away after that first night. What followed was intense, complicated, and just plain fun to behold.
Now, I'm not always a fan of power struggles in literary relationships, what with the manipulation and lies. But the way Ms. Cole positioned Maximo and Cat in the scenes worked perfectly. I loved how Cat was so feisty and wouldn't think twice about giving Maximo a hard time. And it was comical to see the ruthless Mafiya boss so befuddled by his reactions. Their evolving relationship took them both by surprise as well as everyone around them. Even though they both made some poor decisions through the story, I thought it was easy to see where they were coming from once we got more details regarding their pasts.
The thread of suspense, mostly centering around Cat's past, was a great addition to the story. Both she and Maximo had lived through some very traumatic events, very different situations from one another, but equally defining to their character. It was interesting to see how they had both handled themselves then, and where they had ended up in life later on. It was also a connection they shared that no one else would probably quite understand besides them. And it was a pleasure to watch that bond grow between them.
Written from our heroine's POV, The Master can be read as a standalone or as part of the Game Maker series. Maximo and Cat's story certainly struck a chord with me and I hope it does for you as well if you give this story a try.
Book Info:

Published February 17th 2015 by Gallery Books | (The Game Maker #2)
A need colder than Siberian winter meets an attitude hotter than the Florida sun in #1 New York Times bestselling author Kresley Cole's sultry new Game Maker novel.
Everyone fears the Master…
Rich, irresistible politician/Mafiya boss Maksimilian Sevastyan prefers tall, obedient blondes to fulfill his…complicated desires. That is, until the icy Russian encounters a disobedient brunette whose exquisite little body threatens his legendary restraint.
Except her.
Catarina Marín was a well-off young wife until her world fell apart. Now she's hiding out, forced to start working as an escort in Miami. Her very first client is beyond gorgeous, but when he tells her what he plans to do to her, Cat almost walks out of the door.
If pleasure is a game, play to win.
After their mind-blowing encounter burns out of control, the lovers crave more. If they escape the deadly threats surrounding them, can Maksim overcome his past—to offer Cat his future? Only then will she tempt him with what he really wants: her, all tied up with a bow.