In The Millionaire Affair (Love In The Balance #3) by Jessica Lemmon, since a disaster with his college girlfriend, Landon has built walls around his heart. He is now a very successful advertising executive, but he wants no romance and definitely no love in any of the relationships he has with females. Any relationships he has had since are ones that do not risk his heart. Even his intended wedding with the woman who left him very publicly was going to be of convenience only. Single again, and intending to stay that way,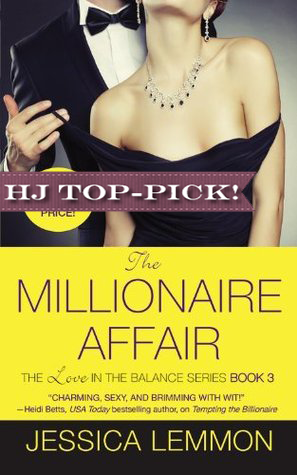 Landon can not anticipate Kimber…
When Landon is babysitting his nephew and at his wits end, his sister Angel convinces him to hire her friend Kimber as a live in nanny for the week. Landon has vague recollections of Kimber from a long ago summer, but he is completely unprepared for the hot woman who is suddenly in his life and living in his suite. Kimber has always had a thing for Landon, it is her little secret, and my, has he grown up nicely!! The attraction they both feel for each other sizzles from the start, but she is there to look after his nephew, and he doesn't let anyone into his heart. Neither of them is looking for anything, Kimber has let herself fall too hard and too fast too many times and is trying hard to move away from her usual pattern.
The harder they try to resist the more impossible resisting is. When Kimber offers him a no strings 'fun-fair', how can he say no to the woman who is slowly creeping past his defenses? The fun-fair happens quick, and is smoldering hot! Soon though they both feel more than either of them planned … do they really want it to end? With unexpected surprises thrown their way, can it be more after all? Can Kimber trust her heart? And can Landon trust his again?
With a lot of inner and romantic conflict, Jessica brings us a book you won't want to miss in The Millionaire Affair! Her characters are strong and as fast as the relationship moves, it is believable. I really enjoyed all of the pieces of both Landon and Kimber and how Jessica managed to fit them together so well as their relationship grew. Kimber was easy to like with her nervous energy and hilarious chatter, especially when she's around Landon. She doesn't have a lot of confidence in herself in romantic relationships though, and at times it was frustrating that she was taking advice from people who had no business giving it! She wants to follow her heart, but is scared to. Landon had a terrible experience with his college girlfriend that has tainted every part of his future since then. He was a bit more of a puzzle, coming from a loving family with lots of examples of great relationships, he focuses on the one that was not great. While I can understand he went through a horrible experience, it was at times frustrating that he let it define every relationship he had since. So much so that when he does start feeling much more than he ever wanted to again, he just doesn't know what to do! Jessica makes their romantic journey touching, realistic, and entertaining.
I liked how we weren't left hanging throughout the whole book about the background of Landon, wondering what went wrong and why he's so jaded. I felt it helped us understand his character better to not be trying to fit the pieces of a puzzle together at the same time we followed Landon and Kimber romantically. Jessica gives us a host of secondary characters in The Millionaire Affair that help make the book what it is, from Lyon to Neil and the phone call!
I have read all of the Love In The Balance series by Jessica Lemmon, and this one is my favorite. The characters and their adventures are ones that will stick with you and make you laugh long after you've put the book down. The Millionaire Affair is fast paced, well written, and impossible to put down once you start. Jessica writes with humor infused generously throughout in a realistic, entertaining way that really helps to make her characters realistic people you'll want to know. It's a book that has it's serious side too, but one that will make you feel happy as you reach the conclusion
I'd highly recommend The Millionaire Affair to any romance reader, you won't be disappointed!
Book Info:

June 24th 2014 by Forever | (Love In The Balance #3)
LOVE IS A DEAL BREAKER . . . Millionaire ad executive Landon Downey has a policy: no romantic relationships allowed. So when he's saddled with his six-year-old nephew for a week, he doesn't think twice about asking Kimber Reynolds to act as live-in nanny. What he doesn't expect is the undeniable attraction to the woman he hasn't seen since they were kids. And not only does she like him back-she suggests they work their way down a list of extracurricular activities in the bedroom. How can he resist? Kimber wants to prove once and for all that she can love 'em and leave 'em with the best of them. All she has to do is keep her sixteen-year crush on Landon out of the equation. No problem . . . until she realizes she may not be the only one whose heart has gotten completely tangled up in their no-strings agreement.!