The Millionaire and the Maid by Michelle Douglas is not a Cinderella story,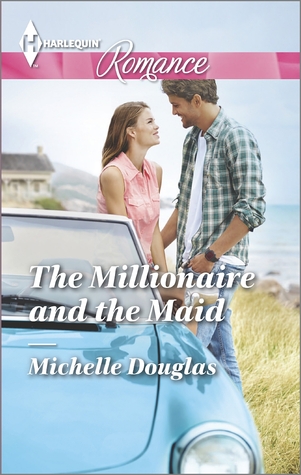 not with a grumpy, mean man and a provocative, speak her mind female. This is the story of two people both with issues figuring out how to work through them and create their futures as individuals.
Jo Anderson was tired of her life. She didn't really want to be in her career, not that she wasn't successful, but it wasn't what she loved. Then she saw her mentor and friend almost die and she knew she couldn't keep living where she wasn't happy. Life was too short. Jo also didn't think she would find true love any time soon, after all she had heard all her life that she was too "much" to tall, to round, etc. So in an effort to regroup herself she went to go work has a housekeeper and "nanny" for her mentor's brother and figure out where she was going next.
Malcolm, Mac, MacCallum wasn't bitter, really, at least that was what he was trying to tell himself. He was an adult and could take care of himself. He didn't need someone to watch over him. A housekeeper, that he could accept IF he had to and it seemed thanks to his older brother he had to. If Mac wanted to stay to himself and away from the public and her that was his right, correct? I mean it was his life for better or worse.
Jo and Mac have chemistry from moment one, even if they both want to fight it for all they are worth. They also have a lot of history that is hanging around in the present, but as they both force each other to work through there issues they realize that perhaps they have more then just chemistry, but when Mac is forced to chose his priorities where will Jo fall?
The Millionaire and the Maid by Michelle Douglas is one of those novels that starts out a little slow, but once you get into the story it wraps you so tightly it doesn't want to let you go. These are complex characters with real stories and real issues, not to mention morals.
This is a book that will have you tearing your hair out, reaching for the tissues and then rejoicing for the HEA. Both Jo and Mac have to go through so much to get to the end but it's refreshing to see two strong characters who actually realize they can both be strong and be happy in love. One quick thing to point out though, there isn't much mention of location other than by the beach, so some of the language seemed a little off until I realized that they were in Australia.
The Millionaire and the Maid by Michelle Douglas is such a fluid read though it's a nice break from reality, without being a fantasy.
Book Info:

Publication: April 7th 2015 by Harlequin Romance Series #4467
The woman who made him smile again…
Housekeeper Jo Anderson gets the shock of her life when she meets her new boss! Six months ago millionaire Mac MacCallum was a charismatic celebrity chef—now he's scarred and reclusive…
The last thing Mac wants is a woman determined to make him confront his demons—especially when Jo clearly has her own! Why else would someone so full of beauty and zest for life feel like the plainest woman in Australia? Maybe it's time Mac helped her realize just how special she really is…