One Daring Night by Mari Carr is another sexy standalone in the Dare to Love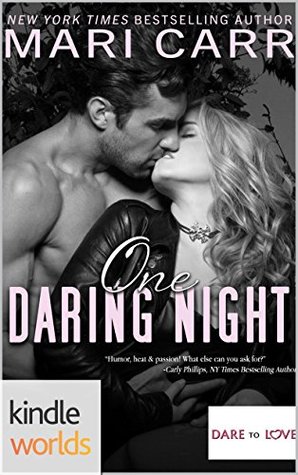 novella series from Kindle Worlds. Best selling author Carly Phillips established the "Dare" family, and each novella created under the Dare to Love umbrella, includes some of the settings and/or characters from her original, ongoing series. This story is about labor and delivery nurse Joni Allen, and Eric Bryant, a full partner in an engineering firm.
The story opens with a real bang. On her 3oth birthday, Joni confronts her almost fiance on a date with another woman. She handles her disbelief beautifully, which is noticed by Eric, who is having dinner with his old college buddy Alex Dare. While Joni is telling her ex off, Eric and Alex are discussing Eric's past, present and future. Eric wants to settle down and stop playing the field. However he needs a little encouragement, so he bets Alex that the next woman he sleeps with will be the one he will marry. Who would have thought that Joni and Eric would continually hook-up for over a year, after a single night of tequila shots, pure honesty and uncontrollable lust.
I enjoyed this book and the cover is hot. Ms. Carr packs a lot of punch into this novella and I really liked the way she evolved Joni and Eric's love story. They were easy to get to know and their passion for each other was palpable. Ms. Carr nicely combined excitement, heat, and drama into this romantic read, and there was never a moment that I did not want Joni and Eric to be together.
Book Info:

Published March 22nd 2015 by Kindle Worlds | Dare to Love
Joni's had better birthdays. Catching her boyfriend at a fancy restaurant with some bimbo certainly wasn't what she'd wished for when she blew out the candles. Newly unattached, she's ready to embrace singlehood by going wild, being reckless, maybe even indulging in some meaningless sex.
Depressed with his shallow love life, Eric Bryant is commiserating with his friend, Alex Dare, over a meal at his favorite restaurant. He vows to marry the next woman he sleeps with—just before a firecracker confronts her cheating boyfriend at the next table. Intrigued, Eric offers to buy her a beer. Joni agrees on two conditions: She wants tequila, and complete honesty. Eric promises nothing but the truth.
After one daring night, what happens when two people with such similar hungers want such different futures?