In The Monster (Boston Belles #3) by L.J. Shen, The first time Aisling "Ash" Fitzpatrick met Sam Brennan, it had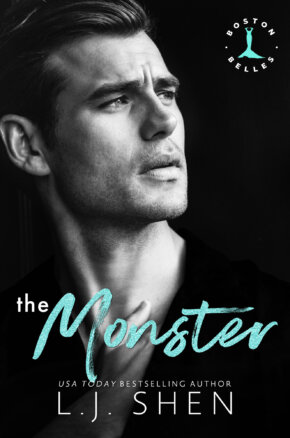 been one of the worst nights of her life. Then he kissed her, and she was able to forget her grief for a short while. It would take many brief meetings and several years until Ash gets to know Sam better. As the number one crime boss in Boston, he's not a gentle guy and is aptly nicknamed Monster. But she's never lost her attraction to him–or her hope that they'll one day be together. As Aisling's life begins to spiral, both with her career and with her family, she turns to Sam, foolish as it might look to outsiders. She knows, though, that they are more alike than anyone can imagine. And his darker nature calls to something in her still, as it has since the first time she saw him so many years ago.
'He was carnal, raw, and dangerous, and there was no one else like him.'
Sam has lived a life of crime, doling out punishment to keep his territory in Boston under control. He's never really been shown much kindness. And he wouldn't even have the first clue how to be gentle or soft-hearted. Even if sexy little Aisling makes him want to try. Sam also knows he can't show weakness. And admitting to having feelings for her would put her directly in harm's way, with the multitude of enemies he's accumulated over the years. But somehow Sam can't stay away from Ash. And the more games she plays, the more he wants to make her his. Knowing she has a hidden side to her makes her more intriguing, leaving him no choice but to make his play for her–regardless of who her family is.
"I thrive in the dark. My job is to implement fear, and I am some people's nightmare. Like all monsters, I always take what I want… And what I want right now, Aisling, is to kiss you."
So very dark but oh so delicious, The Monster took L.J. Shen's anti-heroes to new heights. A twisted tale filled to the brim with angst and undeniable attraction, hold on for a bumpy ride in this newest Boston Belles novel.
'Whatever we had, it was screwed-up and poisonous and destructive, but it was there, and it was *ours*. It had a pulse and a breath and a soul.'
Trigger Warning: View Spoiler »Murder, torture, domestic abuse, self-harm, suicide. « Hide Spoiler
Readers can certainly enjoy The Monster as a standalone. It explains both Aisling (pronounced Ashling) and Sam's backgrounds, when they first met, and a good chunk of information about the previous couples in the series. However, if you've been reading along since book one, wow will you get sucked into Ash and Sam's uber angsty game playing and totally messed up relationship. It was heavy. It was super intense. But then again, Sam was Boston's premiere crime boss so honestly it was expected.
What I found really interesting (without hopefully giving away too many tidbits) was that Aisling was every bit the anti-heroine to Sam's anti-hero. She had darkness in her life that she kept from her brothers and her friends and it meant she could understand why Sam wasn't bothered being called Monster. Ash gave off a socialite, princess-like vibe. It was pretty far from who she really was down deep. And I loved that she had more depth than I thought she would. It's also why Sam couldn't stay away from Aisling, knowing that there was more to her than her beauty and money. She was a complex woman–almost like a puzzle for him to solve.
Sam, well…he wasn't a good guy. He really was a crime boss through and through. I think learning about his terrible childhood will explain a lot of it and will break your heart. It felt like between his adoptive parents, Troy and Sparrow, and Aisling coming into Sam's life, it was the only good he'd ever had. So it was nice to see the positive aspects they added to it. He still might be too much of a rough guy for some readers to truly appreciate, but the more I learned about him, the more I had to root for Sam to allow himself to finally believe he deserved love.
If mafia/crime boss romances are your thing, I think The Monster will be a wildly volatile story you won't be able to put down. L.J. Shen definitely threw in some wicked curve balls her readers won't want to miss.
QOTD: Have you read any mafia/crime boss romances? Any favorites that come to mind?
Book Info:

Publication: Published June 15, 2021 | L.J. Shen | Boston Belles #3
"Maybe we were never meant for each other. But that night at the carnival, when you showed me who you were, I figured out who I wanted to be."
The most important thing I'd ever read was scribbled on the door of a portable restroom, engraved into plastic at a carnival on the outskirts of Boston.
Lust lingers, love stays.
Lust is impatient, love waits.
Lust burns, love warms.
Lust destroys, but love? Love kills.
Maybe it was always my destiny to fall in love with a monster.
When other kids stayed awake at night fearing the pointy-toothed beast hiding in their closet, I longed to see mine.
I wanted to feed it, domesticate it, understand it.
Sam and I were only allowed to love each other in the dark.
Once our story unfolded, and the truth came to light, I was the one to cut the cord.
My name is Aisling Fitzpatrick, and I have a confession to make.
Sam Brennan is not the only monster in this story.