The Most Powerful of Kings by Jackie Ashenden is a sexy royal romance set in the fictional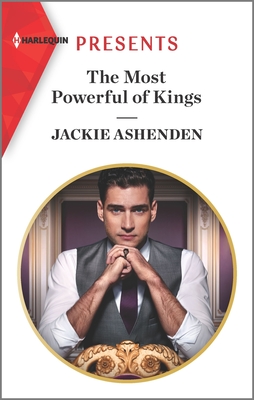 kingdom of Axios.
King Adonis learned early from his abusive father that showing affection and caring for people is not compatible with ruling a country. So he's hardened his heart against love and even with his young daughter he tries to keep his distance, as he believes he will have to teach her the same harsh lessons. But his daughter is a spirited and precocious girl who doesn't understand and acts out, requiring Adonis to reach out to his godmother, the Mother Superior at an abbey to send someone to help him with the girl. She sends a novice, Anna, an innocent compared with the worldly Adonis and not someone he would normally take any interest in – yet for some reason, she provokes a lot of lustful feelings. Anna is out of her element but game to accomplish the task set out for her. She certainly doesn't expect to have any feelings for Adonis, especially as she plans to take her vows as a nun when the assignment is over. Can these opposites find something in common, and perhaps give Adonis reason to believe in love?
Ah, Harlequin Presents, always ready with an implausible but enjoyable romance! Naturally the only person in the kingdom who can help Adonis with his daughter Ione is a virginal heroine training to be a nun. Of course poor Ione is going to act out – her father ignores her most of the time, she's lost her mother and she's surrounded by security guards who don't even let her venture out of the palace. Anna may be innocent but she's not stupid and she understands immediately that Ione is acting out to try to get her father's attention. Breaking down his barriers and false beliefs is a daunting task but she's willing to do it to get this harsh, stern widower to see the mistakes he is making and regain a relationship with Ione.
Anna realizes that her attraction to Adonis is quite intense and decides that since she isn't a nun yet, she should experience what she'll be missing and proposes a one night stand with Adonis, which he immediately accepts. I wasn't impressed at how he treated her afterwards (very coldly), but of course once they've experienced coital bliss it's bound to happen again and again. But then Adonis also begins to confide in Anna, about his abusive father and life growing up in the palace and she is empathetic while reminding him that he doesn't have to turn out the same way. Their emotional connection deepens, leading eventually to their happy every after. I enjoyed Adonis's brother's story ( Promoted to His Princess) and this one holds up as well. There's a sweet epilogue too (with the requisite royal babies). Jackie Ashenden's Presents are ones I can rely on to deliver a sexy, sometimes over the top but always entertaining romance.

Book Info:

Publication: Aug 25, 2020 | Harlequin Presents | The Royal House of Axios #2
He rules a kingdom…
Will she rule his heart?
King Adonis learned early on that emotion is a weakness a monarch can't afford. But then innocent Anna is sent to him to help tame his wayward motherless daughter. Instantly he realises he wants Anna. And that wanting her is extremely dangerous.
The gruff, iron-hearted monarch is unlike anyone unworldly Anna has ever met. That Adonis desires her is almost beyond comprehension. But their heated encounter is enough to make her believe anything. Even that she might be the only woman to glimpse the real man behind the throne…