The Muse by Anne Calhoun: Arden is just trying to keep it together since the her world publicly fell apart.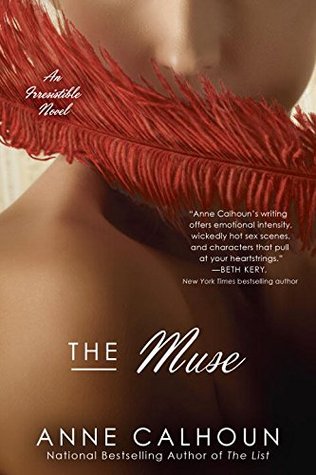 She feels the weight of trying to save one part of the family business under her mother's unrealistic expectations and intense public scrutiny. She begins to draw as a way to deal the overwhelming stress.
Seth left the Marines after losing three of his best friends to an IED. He is dedicating his life to taking care of their families since he was the only one to survive. He ends up as a life model to make more money.
When Arden needs more distraction than the one class each week, she contacts Seth about having private sessions. She badly needs the escape that drawing Seth provides and she's drawn to him. He doesn't judge her or look at her differently as a result of the current scandal. But Arden can't stop at just drawing Seth and their sessions become much more.
"You wouldn't do that. I barely know you, but integrity and honor are written all over you. Literally," she said, and nodded at his chest. "Which is why we should end this. I really don't think you understand what being associated with me could do-"
"I need this, too," he said.
With each session, Arden and Seth get to know more about each other and their bond grows deeper. Both have their own demons to overcome and they are strengthened and comforted by being together. They are tied together by art and their need to draw. Seth has an intriguing suggestion to help Arden better manage things.
"I want to go on a date."
He choked on his coffee but managed to get it down. "A date?"
"Maybe not a date," she said. "I want to do something with you, something casual, something different from what we usually do. I want to go out. Just…go out and do something."
The Muse is a compelling and timely tale. Anna Calhoun provides complex characters with great development over the course of the story. Ms. Calhoun crafted a well-paced and engaging story. The Muse can be read as a standalone and featured secondary characters from the previous books in this series. Fans of Megan Hart will enjoy The Muse.

Book Info:

Publication: December 1st 2015 | Berkley | Irresistible #3
The author of The List continues her sinfully addictive Irresistible series with a provocative new novel about a woman inspired by her most forbidden desires…
Arden MacCarren can't afford to lose control. Her family's investment house has failed, their professional reputation is all but destroyed, and it's up to Arden to hold the line. The only distraction she allows herself is a weekly drawing class where she can forget everything. Then she meets Seth Miller. When he poses in her class, strong, mysterious, and unbearably sexy, she can't resist him. The only thing she can do is keep it purely physical—no emotions, no strings, and definitely no telling.
Seth understands responsibilities, both Arden's and his own. During his last tour as a Marine he lost his best friends to an IED. He has a duty to look after his buddies' survivors. All he allows himself is the stolen moments with Arden. But as he's drawn into Arden's battle with her demons, he comes face-to-face with his own. Seth will have to choose between a duty he can't ignore and the longing to inspire Arden's every desire—mind, soul, and body…