In The Night Mark by Tiffany Reisz, In the last four years, Faye has lost her beloved husband Will and watched as her life has spun out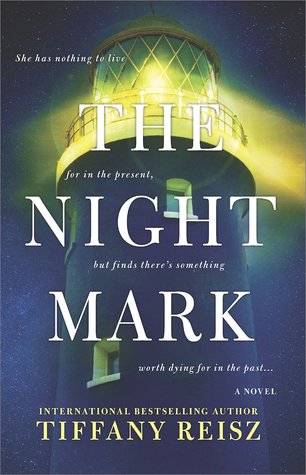 of control. Bad decisions have been made. And her grief is wearing her down. The only thing she knows to do is to carry on and begin a new chapter in her life, as difficult as that might turn out to be.
"Carrick told me about the night mark. You know what that is?"
"It's the name for the lighthouse's particular light pattern."
"That's right. Carrick said the night mark is the heart of a lighthouse. And Carrick and Will have the same night mark, Pat. They shine the same light."
Faye's decision takes her to coastal South Carolina where she begins working on a photography job. One that brings her attention to a beautiful old lighthouse on Bride Island. And even though Faye is warned about the dangerous water there, she wanders too close. But instead of being tossed about, she's washed up on the same shore. In 1921. Her journey from there brings her face to face with a man who looks just like her husband Will. But is it really him? With the help of a kind retired priest, a deaf housekeeper, and the island's lightkeeper, Faye will learn just what she's willing to sacrifice for love.
'How long had it been since she'd been able to smile while thinking of Will? Just smile? No tears, no panic, no pain? Coming to the lighthouse had been good for her, if for no reason other than it had given her this one little moment of peace.'
Magical, life-altering love touched our heroine's life twice in The Night Mark, a new standalone novel by Tiffany Reisz. Time travel, the potential for scandal, and questions about love and faith kept me glued to the pages from beginning to end.
"To think I spent my whole life believing time only went in one direction," he said. "Thought it was a river. Turns out it's an ocean. Waves come in. Waves go out. Sometimes those waves take us with them."
Tiffany Reisz has been one of my go-to authors for some time–I love her Original Sinners series–but with her recent standalone novels she's quickly become one of my favorite overall storytellers as well. Not many authors can write historical/time travel fiction and incorporate everything I love about their contemporary writing into it *and* for it to work well. But Reisz does just that with The Night Mark, mixing in a bit of controversy, keeping a sense of humor, loading up on the passion, and detailing the emotions perfectly…especially the loneliness and despair of those who have lost loved ones.
Okay, so I have to say that with this being a time travel story, you kind of have to run with some of the things that happened to Faye that would be unrealistic in our daily lives. People don't normally get washed away by the ocean only to wake up ninety-four years in the past. (That I know of. 😉 ) But it is a cool premise. So that drew me in to the story as well as the characters themselves, the intriguing historical thread about South Carolina in the Roaring Twenties, and the nautical history about lighthouses and the people who tended them, which has always interested me.
There's just something about the way Reisz crafts her characters and how tangible they are. It seemed like we got a really good sense of who each person was here and all of the complex feelings they were sorting through. I ended up liking Faye a lot. She was basically an emotional wreck but kept on going, trying to get over losing her beloved husband Will. Yes, she might have made some iffy choices but I liked how she owned her mistakes and her feelings. The secondary characters were every bit as charming and multidimensional as well: Carrick, Faith, Dolly, and Pat. I really did love them all but Father Pat was definitely a favorite. He was such a cool guy who added so much to Faye's life and to her healing.
It was a pleasure to read about a love as strong and true as Faye's was, with the ability to stand the test of time. Tiffany Reisz certainly delivered a romance that both soared and felt grounded while delving into the fascinating history of South Carolina in the early 1920s. And for those of you who have read The Bourbon Thief, be on the lookout for some names and a location that ties the two books together.

Book Info:

Publication: March 28th 2017 | MIRA |
She has nothing to live for in the present, but finds there's something worth dying for in the past…
From Tiffany Reisz, the international bestselling storyteller behind The Bourbon Thief and The Original Sinners series, comes an enthralling new novel about a woman swept away by the tides who awakens to find herself in 1921, reunited with the husband she's been mourning for four years. Fans of Kate Morton and Diana Gabaldon will fall in love with the mystery, romance and beauty of an isolated South Carolina lighthouse, where a power greater than love works its magic.