In The Obsession by Nora Roberts, Naomi Carson started her life off as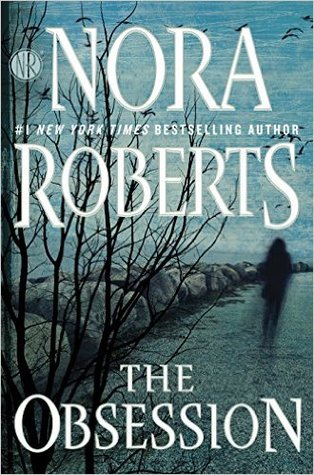 Naomi Bowes, the daughter of the local church deacon, with a loving mother and a sometimes bratty younger brother, Mason. But at the tender age of eleven she learned that you never really know the people close to you. That was when her father's heinous crimes came to light one stormy night when she bravely helped a young woman escape from where she was being held captive on Naomi's family's property.
'How could she have forgotten, allowed herself to forget, what she'd come from and how easily normal could come crashing down?'
Seventeen years later, Naomi has traveled the world building her photography career and has started to put the past behind her. When she finds a gorgeous house in Sunrise Cove that calls to her, she decides to put roots down for the first time in her adult life. The townspeople, including mechanic Xander Keaton, treat her exceedingly well. But no one knows her past. Just when Naomi decides to take a chance on a relationship with Xander is when it all falls apart. That's when her past catches up to her and threatens her life along with that of Sunrise Cove's residents.
"You have a sixty-seven GTO convertible, in factory red."
He stood in reverent silence for ten full seconds. "I think you have to marry me now. You're the first woman besides Loo who's seen her and known what she is. I'm pretty sure we're engaged."
The Obsession was a thrilling ride as we followed Naomi from the point when her life shattered at eleven years old through to when the past once again haunted her at age twenty-nine. What happened in between was a story of heartache, doubt, strength and ultimately hope.
'Had she really told herself, really believed, the past was done? Never done, she thought now. Never over. The ghosts never exorcised. And once again a killer's life twined and twisted with hers.'
I'll start off first saying that this book may be too much for readers who have a difficult time with stories of abuse, physical and emotional, as well as murder. Naomi's father was a monster. Plain and simple. And as this was told from multiple POVs, there are parts later on where we see things from a killer's mindset which was not pretty. But it was definitely relevant to the story and helped to see just how twisted the individual was.
The characters, both main and secondary, I thought, were great. Brave Naomi had been through so, so very much and I liked that she was still working on her issues regarding her traumatic past. Because of that, she didn't want to get close to Xander. I liked him as well and thought he might seem a bit *too* good to be true, but I got such a kick out of his easy way of teasing Naomi, getting her to smile. I thought their connection rang true as well, starting off with physical attraction and evolving into much more. And I would be remiss not to mention Naomi's uncles Seth and Harry. I absolutely adored them and how they supported Naomi and Mason throughout their lives.
What I really liked overall about The Obsession was how Roberts was able to take what could have been a dark and very heavy story and basically added in contemporary romance to lighten the overall tone. There were some great lighthearted moments between Naomi and Xander, with their quick-witted bantering as they got to know each other. Plus Naomi's dog Tag was like comic relief in several scenes. (One involving a Cone of Shame which was hilarious and realistic to a dog owner!)
The Obsession is proof why Nora Roberts is still one of the most popular authors out there today. With a powerful plot, engaging characters, and a variety of intense emotions, this was one solid story that I couldn't read fast enough.
Book Info:

Publication: Published April 12th 2016 | Berkley |
Naomi Bowes lost her innocence the night she followed her father into the woods. In freeing the girl trapped in the root cellar, Naomi revealed the horrible extent of her father's crimes and made him infamous.
Now a successful photographer living under the name Naomi Carson, she has found a place that calls to her, thousands of miles away from everything she's ever known. Naomi wants to embrace the solitude, but the residents of Sunrise Cove keep forcing her to open up―especially the determined Xander Keaton.
Naomi can feel her defenses failing, and knows that the connection her new life offers is something she's always secretly craved. But as she's learned time and again, her past is never more than a nightmare away.