In The One You Really Want by Jill Mansell, Nancy thought she had a strong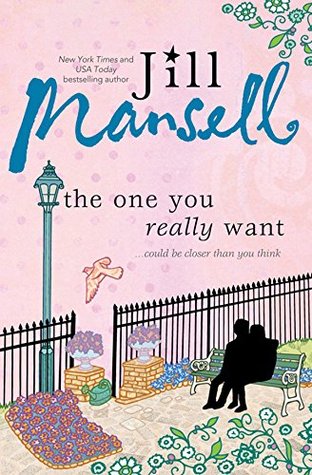 marriage that would last until the end of her days, with her handsome husband and a beautiful home in the Scottish countryside. But Christmas was the beginning of the end this year when she realized that the extravagant gift she found hints of was not meant for her but for someone else in Jonathan's life. Unable to see past what he considered a trifling matter, Nancy accepts her best friend Carmen's invitation to stay with her in London.
Jonathan sounded irritated. "But it was never meant to be anything important. The last thing I wanted was to jeopardize our marriage."
"Should have thought of that before you got her knickers off."
"I know, I know," he exploded with frustration, "but you were never supposed to find out!"
Soon Nancy and Carmen are commiserating together while trying to rein in Rennie, Carmen's rock star former brother-in-law. With the three of them sharing the town house, each very different in personality, Nancy's mum Rose visiting, and a whole slew of Carmen's upscale neighbors in the mix, they begin to form new friendships that change the dynamics in a big way. Especially when romance blossoms here and there. That's when things get truly complicated as Nancy must decide if she's ready to move on from her marriage, and Carmen has to find a way to let go of a past she's still grieving over.
"OK, I know it's way too soon to be saying this, so I won't." His breath warm against her cheek, he murmured, "But right now I'm thinking it wouldn't take much for me to fall in love with you."
Heavens. This was like being in a Hollywood film.
A cast of lovable but quirky characters made The One You Really Want a highly entertaining read. If I hadn't already been a fan Jill Mansell's work, undoubtedly this would have done the trick.
I had such a fun time with this book! It's my favorite of Mansell's so far and I'll admit that I didn't want to put it down. I mean, you know it's an engaging story when you find yourself reading in a doctor's office and you get perturbed when they call your name. How dare they cut into precious reading time? (LOL) But seriously, there was such a wonderful blend of comedy, romance and drama that made the storyline come alive on the pages. And for once I was cheering on every single character instead of having a favorite of the bunch. They were just all so likable.
Nancy and Carmen were the primary heroines, with Connor and Rennie being the major heroes. None of them had been particularly lucky in the romance department and they were all coming from different places personally and emotionally. I loved how this was part romantic comedy with lovely dry humor (which Mansell excels at), but it also had a lot of personal introspection and growth for each of them. The way they all stumbled about in their relationships and had trouble sorting their feelings had such a realistic ring to it. These were genuine people I could see myself being friends with which made this a very grounded story.
I also have to note that this was successfully told from multiple POVs including from some memorable secondary characters such as Rose, Nancy's mum. There were several people to keep track of but I thought they were introduced gradually and in such a way that it made them easy to remember. And to me, they were all just as well-developed as our main characters, adding a wonderful depth to the story with their inclusion.
An absolutely delightful piece of Chick-Lit, Nancy, Carmen and the rest of the rowdy bunch will have you longing to be part of their group, too. The One You Really Want turned out to be a book full of deeply-felt emotions, friendly laughs and shared experiences that were a pleasure to read about.
Book Info:

Published: April 5th 2016 | Sourcebooks Landmark |
A funny, heartfelt novel about second chances at love from beloved bestseller Jill Mansell
When it comes to love, never say never
When Nancy discovers the expensive jewelry her husband's been buying isn't for her, she decamps from the Scottish countryside to her best friend Carmen's posh Chelsea town house to sort things out.
Nancy finds herself in a surprising new world, where rock stars are nicer than you thought, social workers are not necessarily to be trusted, and the filthy rich are folks with problems just like you. Everybody falls in love with the wrong people, and the path to true love twists and turns before you discover who you really want.
"Bursting with humor, brimming with intrigue, and full of characters you'll adore." -Heat on Don't Want to Miss a Thing
"Warm, witty, and romantic." -Daily Mail on Take a Chance on Me