The Only Witness by Laura Scott, most definitely lives up to its' suspense genre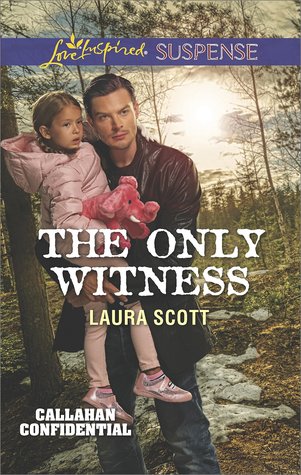 while at the same time presenting characters who are so easily identifiable and easy to care about.
Laura Scott does an incredible writing job, making the reader feel that he or she is right in the action with Miles, the detective who is trying to solve his friends' murder case, while trying to protect Paige and her daughter Abby from an unknown group of hit men.
Miles at first was visiting Paige and Abby because he thought her ex husband might have been responsible for killing Miles' longtime friend. Yet, Miles quickly discovers that Paige and Abby are targets, and it becomes plain very quickly that Abby witnessed the killers actions, and is afraid to tell anyone. Abby, normally a very talkative child, becomes mute out of fear.
Many twists and turns kept me on the edge of my seat as they face many close calls escaping the would be assailants. And, throughout, Paige and Abby fight growing feelings of affection for each other.
I truly enjoyed this story, and wholeheartedly recommend for other fans of romantic suspense, fans who also appreciate that the characters draw strength from their faith. That is one reason I enjoy the Love Inspired and Love Inspired Suspense lines.
Book Info:

Publication: February 7, 2017 | LoveInspired Suspense | Callahan Confidential #2
Determined to question the ex-wife of a murder suspect, homicide detective Miles Callahan arrives just in time to save her and her daughter from a shooter. Leaving the scene of a crime goes against his training, but protecting Paige Olson and the little girl is more important than following the rules. But now, on the run with mother and child, Miles must figure out what happened to Paige's ex-husband…and why young Abby won't say a word. Her usually talkative child's silence has Paige worried. Is it possible she witnessed something while video chatting with her dad? If only they can convince the little girl to talk, then they might just break the case wide-open…and stop the killer who's stalking them at every turn