In The Perfect Score by Beth Albright, Ginny is back in Cottonwood Cove, Alabama. Her career as an investigative reporter is in tatters, and she's come home to regroup. Really the last place she wants to be and certainly the last place she plans to stay. But family comes first when and when her mother needs help to save The Chatterbox, Cottonwood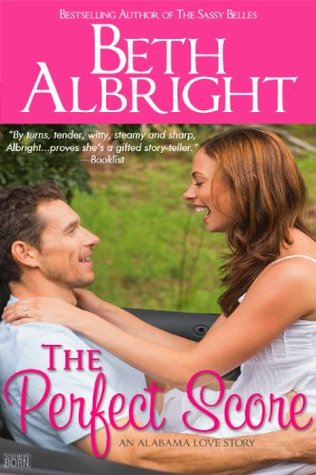 Cove's 'gossip rag', Ginny steps up to the plate. Even when it means she'll be in Cottonwood Cove longer than she initially planned to be.
When Ginny decides to run a new column on the high school football players, she's very intrigued by the new coach, Jared. Having met him first as a woman and second as a reporter, Ginny is just as attracted as she is intrigued by Jared. She can sense he's hiding something, she can sense a good story. Jared is just as attracted to Ginny, but his private life needs to stay private. When he feels threatened by a reporters intrusion, his walls come up. Personal and professional comes into conflict for Ginny when she can no longer resist the chemistry…just as she starts to uncover his mystery.
As Ginny falls deeper for Jared, she has some big decisions to make. Even if she keeps his secrets, she is going to have to decide between Cottonwood Cove, love, and Jared, or a career far away, alone.
The Perfect Score was a sweet, small town romance. Beth gives us an easy to read story with a real southern feel that will have you feeling like you are in Cottonwood Cove. Beth blends humor, conflict, and love smoothly, engaging the reader quickly with the characters. Ginny was at times an amusing heroine, at other times exasperating! She always kept you guessing what she'd get up to next. Jared is more mysterious, a guy you really want to get to know! Beth describes him so perfectly he is very easy to visualize. With all sorts of conflict between Jared and Ginny it is fun to watch their relationship evolve in The Perfect Score.
I really enjoyed how Beth brings in family members as well as community members so you get a real feel for life in the small town and life with a meddling, scheming family like Ginny's. In a fairy tale like way, Ginny and Jared are pretty quick to get together, but will they get their happy ending? Beth does bring in some subplots along with the secondary characters that are all part of what is going on with Ginny and Jared, bringing all the people to life and giving them realism.
I'd recommend The Perfect Match to romance readers who like small town romance with just the right amount of conflict to keep the story intriguing.
Book Info:

Published May 22nd 2014 by Tule Publishing Group
Ginny Bloom Hunnicutt is crawling back home to Cottonwood Cove Alabama, her promising CNN news-reporting career in shambles when an on-air flub cost her the job and cost CNN a lawsuit. Putting ego aside, she takes a position at the Chatterbox, the local weekly newspaper run by her mother, the town gossip. What's a southern belle to do in a crisis but run home to her mama? But when a mysterious hot high school football coach rolls into town, Ginny's luck begins to change. Seems he has more secrets than a shady politician and Ginny's determined to dig up the truth, and write the story that will get her career back on track. Everyone knows in a small, southern town, nothing stays private.
But the more she delves into his past, the more she begins to fall for the former college football star. The coach's star player has some secrets of his own and when Ginny uncovers it all, she must decide if she should reveal everything or follow her heart and protect the people she has grown to care for.
Author Beth Albright weaves a saucy southern tale filled with intrigue, romance and laugh out-loud comedy. From the bright lights of Friday night football to the darkened bedroom of unexpected lovers, it's a richly layered story with more twists and turns–and mud–than an Alabama back road.