In Better Homes and Hauntings by Molly Harper, Landscape architect Nina Linden hopes her luck may be returning with this new project. Working on Whitney Island for billionaire Deacon Whitney, she should be able to settle her debt and possibly eek out a profit. No thanks to her former business partner, Rick, who drug her name and credit through the mud when they parted ways professionally. Nina tells herself she doesn't care about the reports of ghostly activity in the palatial home. As she becomes friends with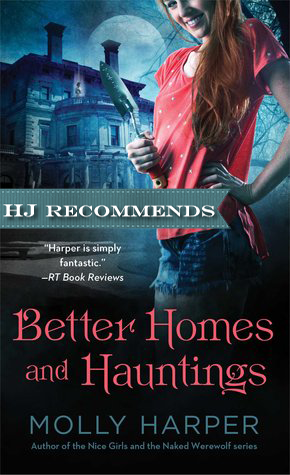 Cindy, organizer extraordinaire, and architect Jake, Nina notices a growing attraction between herself and Deacon. Try as she might, she can't stop falling for the geek-chic guy, even as they all begin to have mysterious visions and dreams that seems to be giving them insight into the island's dark history.
'As the wind whipped his Oxford aside, Nina caught a glimpse of Captain America's shield underneath. Deacon Whitney ran a billion-dollar company, and he still wore comic-book-hero T-shirts. That was pretty damned adorable.'
Deacon doesn't believe in the Whitney Curse that has supposedly plagued his family for a hundred years. The apparent murder of Catherine Whitney in the early 1900s on Whitney Island has never been solved and has hung over the house ever since. His goal is to get the best people possible to fix up the home and property and prove that there is nothing to fear of the Crane's Nest. With his friend Jake by his side, Deacon gets started on the project but soon becomes distracted by Nina. She's beautiful, has the most charming personality, and understands his ramblings. The moment he begins to hope they can form a relationship, though, the otherworldly activity in the house increases, threatening to send his crew, and himself, packing.
"Oh, come on. I've seen the two of you together. It's like watching a nature documentary on scientists trying to get the two most socially awkward people in the world to mate."
Better Homes and Hauntings is another paranormal winner by Molly Harper. Definitely not lacking in her trademark brand of snark and humor, this single title novel charmed me with its off-beat characters and edge of mystery.
I've been following Ms. Harper's books since I picked up Nice Girls Don't Have Fangs, and I haven't lost my interest in anything new she presents to us readers since then. If you've never experienced her style of writing before…it's a bit hard to explain, but I assure you, it's easy and enjoyable to read. I personally love all of the quirky dialogue and references to books, superheros, and movies she uses. It worked very well as a personal connection between our protagonists, Nina & Deacon, with their love of Flash Gordon and other superheros/comics. And it was just plain funny.
As usual, the secondary characters also held their own in the story, plus were an integral part of the plot. Cindy, Jake, and Dotty added another delightful layer with friendship and camaraderie while on the island, dealing with the strange happenings. That supernatural/mystery thread in the plot really kept my attention and I couldn't read fast enough to see how it all worked out. I thought the pace of the story was spot-on, and had to chuckle at the titles of the chapters, which gave us a bit of a heads up as to what we could expect in the scenes that followed. For example…Chapter 6: Sending Ghostly Tantrum Throwers To Time-Out. How can you not want to read that?
I would recommend this to paranormal romance fans who like a bit of a whodunnit mixed in to the storyline. And if you are not a Molly Harper fan yet, I think you will be when you finish Better Homes and Hauntings.
Book Info:

Publication: June 24th 2014 by Pocket Books
Author of the beloved Half Moon Hollow series of vampire romances (Nice Girls Don't Have Fangs), Molly Harper has created a standalone paranormal romance in which a dilapidated haunted house could bring star-crossed lovers together—if it doesn't kill them first!
When Nina Linden is hired to landscape a private island off the New England coast, she sees it as her chance to rebuild her failing business after being cheated by her unscrupulous ex. She never expects that her new client, software mogul Deacon Whitney, would see more in her than just a talented gardener. Deacon has paid top dollar to the crews he's hired to renovate the desolate Whitney estate—he had to, because the bumps, thumps, and unexplained sightings of ghostly figures in nineteenth-century dress are driving workers away faster than he can say "Boo."
But Nina shows no signs of being scared away, even as she experiences some unnerving apparitions herself. And as the two of them work closely together to restore the mansion's faded glory, Deacon realizes that he's found someone who doesn't seem to like his fortune more than himself—while Nina may have finally found the one man she can trust with her bruised and battered heart.
But something on the island doesn't believe in true love…and if Nina and Deacon can't figure out how to put these angry spirits to rest, their own love doesn't stand a ghost of a chance.