In The Plus One by Sophia Money-Coutts, Polly Spencer is one of those women you see at weddings without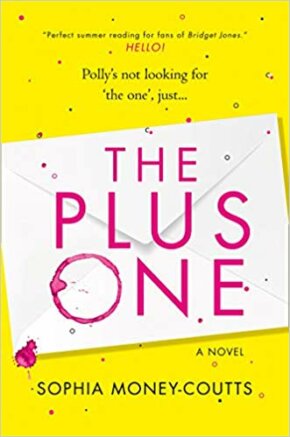 a date, just trying to fit in among a world full of couples. And typically it doesn't bother her. When it comes time for her best friend to get married, though? Polly knows she should probably try harder to find a plus one for the wedding. It wouldn't hurt, either, to make a few improvements in her daily life, like taking better care of her health and possibly finding someone to spend her future with. After all, she did just turn thirty.
'Castle-owning future dukes weren't supposed to end up with girls from Battersea. Even though we'd all been indoctrinated with Disney cartoons to believe it could happen.'
Polly's job as a writer at Posh! magazine has sent her on some admittedly ridiculous assignments in the past. She's hoping the interview she will have soon with Jasper, the Marquess of Milton, will not be another such task. Because he certainly does have a bit of a reputation as a lady's man who can charm the knickers–er, pants off anyone. Polly goes into the interview thinking it will be just another job. Who would have thought she'd become a little smitten with Jasper? So as life throws a few surprises her way, Polly gets tangled up in the eccentric life Jasper leads while she tries to sort through the rest of her personal and professional issues.
'I'd always wanted to be shaken by love, consumed by it, inflated with passion and longing and with someone I ached for when we were apart. That was real love, right?'
So honest it will make you cringe a bit but so heartwarming and fun it will make you giggle, The Plus One was a stellar debut from Sophia Money-Coutts.
'He was clearly the boy your mother warned you about but he was also charming… More charming than the papers made out. Or maybe it was the wine?'
I truly did laugh and cringe my way through this rom-com thanks to our author's dry-witted writing voice that flowed easily across the pages. Polly, our heroine, came through as so real to me. She was a rather bumbling Londoner sometimes, a might lost when it came to romance and finding her direction in life, but she meant well and had a huge capacity for love. How could you not root for her, yeah? Polly's hilarious escapades with the mad-cap group of friends and acquaintances she was surrounded by pretty much guaranteed us a rollicking good time.
There were a few times where the story did get dragged down slightly with minute details and other times where Polly frustratingly didn't see what was right in front of her. But overall I thought The Plus One read like a modern homage to Jane Austen's Sense and Sensibility–a classic novel-turned-movie which was mentioned a few times throughout the story. I loved seeing down-to-earth Polly mixing it up with stuffy royals one minute and then lazing about with her flatmate Joe the next, all while getting sent on crazy assignments for her job at Posh! magazine. It was all woven together in an entertaining tapestry that kept me invested in Polly and her mates.
A hoot of a British rom-com, The Plus One was delightfully warm and instantly likable. Sophia Money-Coutts certainly captured my attention and I look forward to what she plans for us next.
Book Info:

Publication: April 18th 2019 | HQ |
'So funny. And the sex is amazing – makes me feel like a nun! JILLY COOPER
The Plus One [n] informal a person who accompanies an invited person to a wedding or a reminder of being single, alone and absolutely plus none
Polly's not looking for 'the one', just the plus one…
Polly Spencer is fine. She's single, turning thirty and only managed to have sex twice last year (both times with a Swedish banker called Fred), but seriously, she's fine. Even if she's still stuck at Posh! magazine writing about royal babies and the chances of finding a plus one to her best friend's summer wedding are looking worryingly slim.
But it's a New Year, a new leaf and all that. Polly's determined that over the next 365 days she'll remember to shave her legs, drink less wine and generally get her s**t together. Her latest piece is on the infamous Jasper, Marquess of Milton, undoubtedly neither a plus one nor 'the one'. She's heard the stories, there's no way she'll succumb to his charms…
A laugh-out-loud, toe-curlingly honest debut for fans of Helen Fielding, Bryony Gordon and Jilly Cooper. Don't miss the hottest book of 2018!