The Pregnancy Secret by Cara Colter: Jessica and Kade Brennan were married in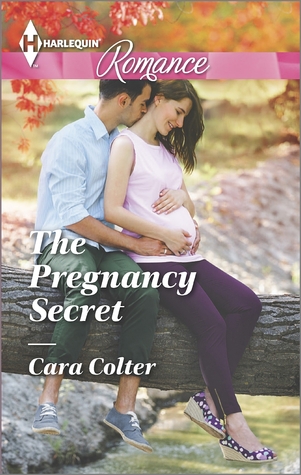 the legal sense, so what if they hadn't seen each other in over a year? Why talk about divorce now? Why couldn't they just go on like they had been?
Jessica had spent the last year building her business. She now was running a very successful nursery business. She did both designs and stocked the items for the nursery and so far it seemed to be filling the holes in her life. She was even beginning to think about adoption.
Kade too had been working his company now was at the top and doing amazing things in the numbers columns. He worked and worked, after all it kept his mind off the failure of his marriage of what he wasn't able to provide. So why now? Why couldn't he seem to move on?
When Jessica calls Kade to set up a meeting reading the divorce she doesn't expect to interrupt a breaking and entering at her business. Kade isn't sure what to expect when he sees all the police at her place but seeing Jessica helpless wasn't in his radar. With Jessica needing him, Kade finally has a chance to find out what happened and what can happen. But will these two finally be able to lay all their cards on the table and start fresh? Or will they not be able to see beyond the hurt?
The Pregnancy Secret by Cara Colter is a difficult novel for anyone who has ever struggled with pregnancy or infertility. Without really digging into the subject Ms. Colter is able to bring to the readers attention the subject of healing within ones self before trying to bring anything else into a relationship. It's a moving novel about the journey one-woman makes and how important it can be to have a strong support system in place.
The Pregnancy Secret by Cara Colter is an incredibly moving story that will cause the tissues to come out for good and bad.
Book Info:

Publication: May 5th 2015 by Harlequin Romance Series #4471
Back in her husband's arms!
Jessica Brennan couldn't wait to marry gorgeous Kade and fill their rickety house with children. Not being able to live that dream tore them apart.
CEO Kade may not have been able to fix their marriage, but he can finally fix up the house. Except working together only rekindles their love… One night with her husband can't hurt, can it…? Unless it has dramatic, life-changing consequences!