The Prince of Broadway by Joanna Shupe is an exciting and passionate historical romance featuring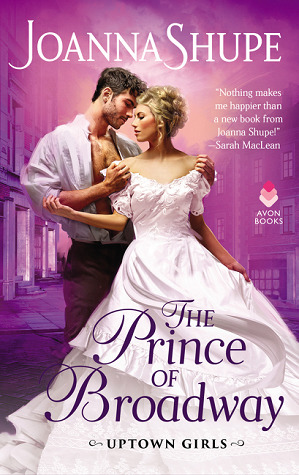 a bad boy hero and the daredevil woman who brings him to his knees.
Florence Greene belongs to the upper echelons of society in New York, an 'Uptown' girl with a privileged life and background. Yet for some reason, she keeps showing up in Clayton Madden's gambling club. Women aren't allowed, but he lets his doorman allow her entry, and she keeps winning from his tables. He's intrigued and arranges a meeting to find out what she's up to.
Florence had hoped that the elusive owner of The Bronze House illegal gambling establishment would take notice of her and her persistence has paid off. She's not interested in a society marriage that she knows her parents would like for her. No, what she wants is to be beholden to no man, and to make her own future. Specifically, she wants to open an all female casino. It's not like women in private don't gamble, like the jewelry that changes hands at her grandmother's euchre games. She prepared to take the heat and the risks. She just needs someone to show her the ropes, and Clayton Manning is that man.
Clay can't resist Florence's request, but it comes with some caveats. He's upfront and honest with her that he finds her attractive and is interested in pursuing an affair while he teaches her how to run her own gaming house. He's also blunt about his plans for revenge against her father, for reasons he won't divulge. He's definitely not interested in any kind of commitment but if she's looking for a little walk on the wild side, he's willing and able. Florence has her mind set on her plans, and with the handsome Clay by her side, she's willing to throw caution to the winds and experience the sensual side of life he has on offer. But when Clay's plans are fully revealed, will she have succeeded in keeping her heart intact?
I've had this author's books on my to-read list for quite some time but this is the first I've actually read. And I'm kicking myself for not diving her work sooner! This is one of my favorite historical romances of the year, a rollicking, sexy adventure with daring and likable characters who don't fit society's expectations but have found in each other a perfect match.
Clay is definitely a bad boy hero. He's got much of the New York police service and major political figures on his payroll, and doesn't hesitate to exact revenge when warranted. From the start the reader knows that Clay's reasons for wanting revenge on Florence's father have to do with how he and his family were pushed out of their home when he was young to make way for a business development owned by her father. For twenty years, he's been plotting how to get back at Duncan Greene and he's not going to stop those plans just because Florence is getting under his skin. I appreciated that he was honest with Florence from the start so that she went into the relationship with her eyes open.The real problem for Clay is when he starts to care more about Florence than he wants to.
As for Florence, she is simply a delightful character. Strong, passionate, working during the day with the bounds set on women and at night making her own rules. She's a skilled card player in her own right and with Clay's tips and tricks, determined to make her future her own. While she appreciates Clay's protection, she's also not above calling him out for his mistakes, and making choices for her benefit. She's not a prude and is willing to try new sexual experiences (which Clay is happy to introduce to her). And when she discovers what he's really up to with regards to her father, he'll have his work cut out for him to make it up to her.
The world building is excellent, the setting of 1891 New York well described via clothing styles, transportation, society expectations and New York City destinations, including the seedier side. Having never read a book set in this era, I found it really interesting and I'm excited to dive into more of the author's backlist with this setting. The romance is equally entertaining, very sexy with some steamy love scenes, and moments that made me laugh out loud. I couldn't have asked for more. It's definitely going on the keeper shelf!
Book Info:

Publication: Dec 30, 2019 | Avon | Uptown Girls #2
Powerful casino owner.
Ruthless mastermind.
Destroyer of men.
He lives in the shadows…
As the owner of the city's most exclusive casino, Clayton Madden holds the fortunes of prominent families in the palms of his hands every night. There is one particular family he burns to ruin, however, one that has escaped his grasp… until now.
She is society's darling…
Florence Greene is no one's fool. She knows Clayton Madden is using her to ruin her prestigious family… and she's using him right back. She plans to learn all she can from the mysterious casino owner—then open a casino of her own just for women.
With revenge on his mind, Clay agrees to mentor Florence. However, she soon proves more adept—and more alluring—than Clay bargained for. When his plans are threatened, Clay must decide if he is willing to gamble his empire on love.