Her Secret Alaskan Family by Belle Calhoune is the introduction to her Home to Owl Creek series.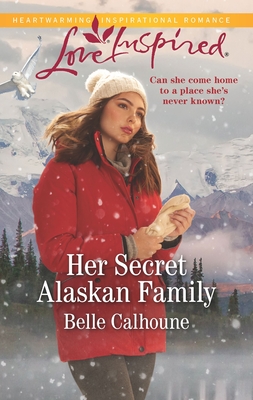 She writes a number of books which take place in Alaska. This one highlights Owl Creek, a small town which is home to the North Star Chocolate Company.
Owl Creek, Alaska is a long way from Florida. Enjoy visiting the wintery wonderland and the close-knit community as Sage Duncan visits and learns about her true background.
She knew she was adopted. The dying confession of her "adoptive" mother was a total shock. Her"adoptive" mother actually kidnapped her from a prominent family in Owl Creek, Alaska. How could this be? Sage Duncan only guessed the Snow family, owners of the North Star Chocolate Company were actually her birth family. She found news clippings in the attic about the kidnapping of Lily North twenty-five years ago. Sage has decided to visit Owl Creek to learn about the North family. She feels she can't let them know who she is because she fears they will bring charges against her "adoptive" father who knew nothing about the kidnapping. He was told the baby his wife brought home after an extended trip away was given to his wife by two young teens who couldn't raise the baby themselves.
Sage found Owl Creek, the people there, the North family and especially Sheriff Hank Crawford much to her liking. She discovered the Norths never stopped looking for their daughter. What a mess! But she had to protect the father who raised her. Such secrets are hard to keep. How will everyone have a happy ending? Especially since Sage is falling in love with Hank and his number one requirement in a relationship is honesty.
The characters in this story are very likeable and easy to identify with. The story is rich with eye opening descriptions of the beauty of the Alaskan countryside. I liked the comfy feeling of loving families who support each other and the dedication of the people of the town to the North family and their search for their kidnapped daughter. Readers who enjoy small-town romance will love this story.
Book Info:

Publication: December 17th 2019 | Love Inspired | Home to Owl Creek
Can she come home to a place she's never known?
Everyone remembers the kidnapped Alaskan baby…but they don't know she's returned home.
Sage Duncan is the only person in Owl Creek who knows her true identity: the missing Alaskan chocolate heiress. Now she's returned to Alaska to learn about the family she was stolen from—without disclosing her identity. But keeping her deep secret from gorgeous town sheriff Hank Crawford is much harder than Sage thought…especially when she finds herself falling for him.