The Prince's Captive Virgin by Maisey Yates is a fresh take on an old favorite trope – a Beauty and the Beast themed sensual romance set on a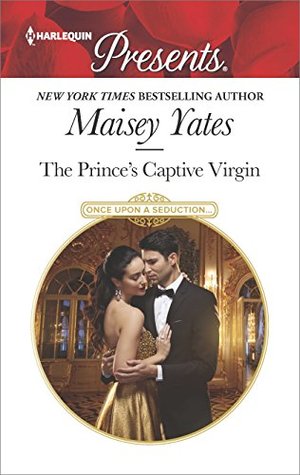 Mediterranean island with a forgotten Prince and a woman who helps heal his broken heart .
Olympios may be small but it's still run by royalty. For the past three years, Prince Adam Katsaros has been secluded in his castle, mourning the loss of his wife and unborn son in a car accident caused by the paparazzi. Once the toast of Europe, the tragic end to his marriage also turned the handsome and dashing Prince into a facially scarred recluse. A beast indeed, with a heart turned black with grief.
When Belle's father, a paparazzi photographer desperate for cash to aid his medical bills attempts to take a photo of the reclusive Prince, he is captured and held prisoner. Belle comes to plead for his release and Adam makes a deal with her – he'll let her father go if she'll agree to pose as his mistress as he comes out of seclusion to retake his rightful place governing the country, Olympios having been run by his viceroy since the accident. Belle reluctantly agrees for the sake of her father's health. She's not scared off by Adam's looks or gruff, sometimes ferocious manner. In fact, what she feels is quite the opposite, especially when she learns of the tragedy in his past. Having not had female companionship since his wife died, Adam is attracted to the beautiful woman in his home, and not just by her looks. Her feisty nature and caring attitude show him that he can turn the corner on his grief, if he'll let her in. But will he be willing to risk his heart again?
I loved this story! If you're like me, you'll be hearing strains of the Beauty and the Beast movie theme during certain scenes, and delighting in how the author has taken some of the classical story but made it wholly her own with a convincing reason for how Adam became so 'beastly' towards those around him. There's no magic that ends his disfigurement, but he regains his Princely power and authority quite nicely by the end of the story, as well as the attributes of a man freed from grief and looking to show the woman he loves that he's changed from the man she first met. I loved seeing that transformation, and his realization that he will have to choose to move on with his life with Belle or stay married to the past without her.
Belle is a wonderful character, a lively, bright and complex woman. She too has dealt with grief, in this case abandonment by her mother at an early age to be raised by her father. This taught her not to take risks with her heart. Accordingly, she'd been dating a man for eight months before her father's mishap, a passionless relationship, and one she soon comes to realize while in Adam's home was her own way of escaping being hurt. She's still a virgin, until Adam comes along and shows her the meaning of true passion. They share some sensual scenes together, a sexual awakening of a sort for them both.
Adam has two best friends from school, Rafe and Felipe, men who did not abandon him after the accident though he's kept himself apart from them. Felipe throws a party that Adam takes advantage of to re-introduce himself into society –and show off Belle at his side. We get some brotherly camaraderie with these three, and I am looking forward to reading their stories too! In the end, both Belle and Adam realize that revealing their love for each other is worth the risk, and we get their 'happy ever after' ending. I recommend this for readers who enjoy an old fashioned fairy tale where love wins the day.

Book Info:

Publication: May 23, 2017 | Harlequin Presents | Once Upon a Seduction #1
Innocent in the beast's bed!
When Belle Chamberlain offers to take her father's place as his prisoner, Prince Adam Katsaros strikes a deal. Deeply scarred by the accident that claimed his wife, Adam isolated himself in his forbidding castle. But Belle's innocent beauty could redeem his reputation as he reclaims his throne… He'll release her father if Belle poses as his mistress!
Belle can neither deny nor resist her brooding captor! Adam's burning gaze awakens a newfound desire, and every touch brands Belle as his. His ruthlessness is legendary, unless Belle can tame the beast inside..