In Wired (Buchanan-Renard #13) by Julie Garwood, FBI Agent Liam Scott is desperate to solve the problem the department is facing that's putting lives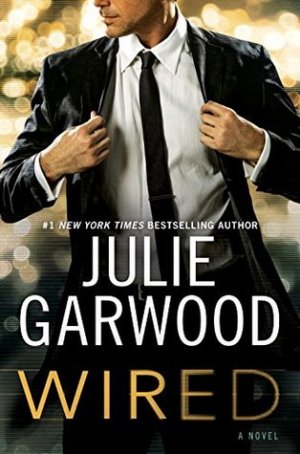 of agents at risk. Securing help from brilliant hacker, Alison Trent, is a struggle at first, because of the secrets she's keeping that she believes could get her arrested, but once she's on board there's no stopping her from finding the truth. Yet, it seems Alison's work is gaining her a few enemies. Will Liam be able to keep her safe, so they have a shot at happy ever after, or will the bad guys win?
"Phillips wants to know if I can break into the government system, right?" she asked.
"Right."
"And he's okay with me searching for the leak?"
"Yes."
"I have a feeling he wants me to fail so he can say, 'I told you so.'"
"I think you might be right," he said with a grin.
"He's in for a disappointment," she said. "I am going to get in, and if the leak is coming from inside, I will find it."
Although I haven't read the other books of this series, I can easily say that this story can be read as a stand-alone, and right from the beginning it was everything I'd hoped for and more due to it combining the two best themes – in my opinion – when it comes to a book. The two themes I'm talking about are romance and suspense, and this book had it in spades as Alison is not just in danger from one threat, but from a few. The way this story started had me liking the heroine immediately, as she isn't afraid to do things to right the wrongs of the world, even though she knows she could get in big trouble with the authorities. Will she get in trouble if someone finds out what she's done?
As for the dialogue, it was exhilarating and captivating due to the main characters back stories, the heroine's incredible hacking skills and how far Liam will go to protect Alison. He feels responsible for her, seeing as the FBI is in desperate need of someone with extraordinary abilities, which is proven by all that she does throughout this story and what she's done in the past. Hacking was a way to cope with the loss she suffered and what could happen if she didn't do everything she was supposed to.
Both the main characters are fascinating, and drew me into this story, as they work hard to find the leak while Liam does his best to resist the heroine, believing he doesn't deserve happiness in his life. Will he finally realize that Alison is the best person to come into his life? What choice will he make when it comes to his career and Alison, if he has to make one? Moreover, I liked Alison's strength and her courage in the way she's starting to fight back against all the injustices she's suffered. Such as her aunt and uncle's treatment and how they're still using her; and standing up to someone determined to steal something of Alison's that could end up earning her a lot of money in the future. I also liked how kind and caring she was and her determination to take down the bad guys, even though I believed she was making the wrong decisions when it came to her cousin.
While Liam, he's a total bad boy that managed to turn his life around and become an exemplary agent willing to do anything to keep people safe. He owes a lot to the bureau and I could understand why he tried to keep his distance from Alison, even though he was already falling for her. I also liked how protective he was of Alison and that he would do anything to make things easier for her to accept what she was doing, especially when she explains what she's done in her past that could get her in trouble with the law. Will he find a way to protect her from prosecution if she did end up getting in trouble? Will he be able to protect her from all the threats she faces?
"I should warn you, it's not going to be normal."
"Sex or our marriage?"
"Our marriage."
"I didn't expect it would be."
"I'm not normal," she whispered. "You need to know that."
"Sweetheart, I figured that out five minutes after I met you. You're far superior to normal."
Overall, Ms. Garwood has delivered a wonderful and exciting read in this book, which kept me entertained from start to finish due to this couple's growing relationship, the way they teased each other at times, the trouble they face, the secondary characters in Alison's sister and friend that supported her need to break free from the past and the ending that had me on the edge-of-my-seat due all the threats Alison was facing that had me wanting to discover who would come after her. The way this story ended was perfect, as Liam would do anything to keep Alison safe. Would he get to her in time? Then there's the decision they make about their future together that made me smile. Alison is such a good person to make the sacrifice that she does. I would recommend Wired by Julie Garwood, if you enjoy romantic suspense, have read the other books of this series, or enjoy reading books by authors Maya Banks, Nora Roberts or Linda Howard.

Book Info:

Publication: July 4th, 2017 | Berkley | Buchanan-Renard #13
A beautiful computer hacker and a bad-boy FBI agent must collaborate—in more ways than one—in the sizzling new novel from #1 New York Times bestselling author Julie Garwood.
Allison Trent doesn't look like a hacker. In fact, when she's not in college working on her degree, she models on the side. But behind her gorgeous face is a brilliant mind for computers and her real love is writing—and hacking—code. Her dream is to write a new security program that could revolutionize the tech industry.
Hotshot FBI agent Liam Scott has a problem: a leak deep within his own department. He needs the skills of a top-notch hacker to work on a highly sensitive project: to secretly break into the FBI servers and find out who the traitor is. But he can't use one of his own. He finds the perfect candidate in Allison. Only, there's one problem—she wants nothing to do with his job and turns him down flat.
What Liam doesn't know is that Allison is hiding secrets that she doesn't want the FBI to uncover. But Liam will do nearly anything to persuade her to join his team, even break a few rules if that's what it takes. A temptation that could put his job—and both of their futures—on the line…and longing for more . . .