The Prince's Fake Fiancée by Leah Ashton: When something starts out as a farce can it ever evolve into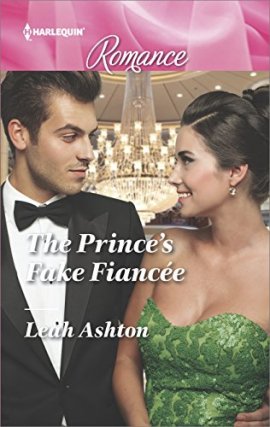 something real? Or will you always be wondering if it's still part of the "play"?
Jasmine Gallagher had confidence in herself. She knew her stuff and more so she knew that she could and would do her job to the best of her ability. Until there was one client, a prince, and he asked her to do the unexpected. Could she pretend to be his fiancée? Could she really help him pull off this farce and do it while still keeping hold of her heart?
Prince Marko Pavlovic was terrified, he lost his father to cancer and then to find out his brother had it as well? This wasn't good, but he was going to do whatever he could do to help ease the King's worries and be who his country needed him to be, even if that person included another person and well fooling the nation.
Can Marko and Jasmine do it? Could they really fool an entire nation into thinking they were in love? When the past comes out of the darkness will there be any light left?
Wow, this was a very unexpected heart warming romance that will have you trying to read faster to know what happens while at the same point dreading each turn of the page as it brings you closer to the end. These two have such a sense of realism with them that you feel they could be sitting in the room with you even as a Prince and an almost Princess. This is one of the best reads to come along in while. You won't regret picking this one up.

Book Info:

Publication: expected publication: January 1, 2018 | Harlequin Romance |
His princess for keeps
Playboy Prince Marko's rebellious past hides a wealth of pain, but he's neglected his royal duties for too long. And now that his brother and country need him, he'll do anything to prove he's changed—starting with a fake fiancée!
Elite bodyguard Jasmine Gallagher was hired to protect the prince, not get swept into his glamorous world, but she can't help falling for the man behind the crown. Marko's found a way into Jas's guarded heart, but will he claim her as more than just his convenient princess?