Trouble Next Door by Stefanie London: Beckett nearly had everything he wanted. Funding for his app,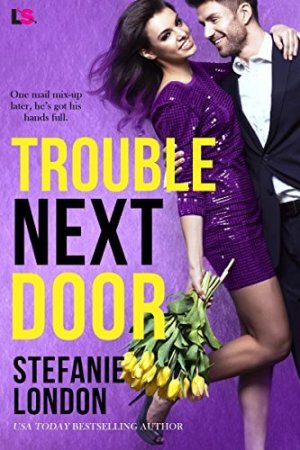 money enough to make his family secure, and the woman he wanted to marry. But when his fiancé leaves him, she takes the funding and any security Beckett might have had. His goal now is to get her back.
Offering her help in wooing back his ex in exchange for Beckett putting in a good word for her make-up services with his sister's high-society wedding is McKenna. She's always found Beckett attractive, but the last thing McKenna is interested is another man – she always seems to choose the wrong one. And Beckett, the man going after another woman, is definitely the wrong choice.
But Beckett can't get McKenna out of his mind. He's noticed her for years. Bright and sparkly with false lashes and glitter – the exact opposite of Beckett's style – and turning out to be the one thing he really wants. Beckett has to decide if his plan is worth the cost of love.
I enjoyed Trouble next Door. McKenna certainly is sparkly energy, underappreciated, but full of energy and voice. Beckett, far less so, but I liked his quiet and studious attitude. He was blunt and upfront, and very much in control and focused on taking care of his family – even to the detriment of his own happiness.
I can't call it the most exciting romance, but they had an attraction I appreciated. Plus, I'm always a fan of opposites, and these two certainly were that. I do wish the characters had a bit more development. I felt they had a lot going on, such as McKenna's family's issues with her less-than academic lifestyle, but it was much more an overview of those issues than anything else.
Overall, though, for those who enjoy an opposites attract, I recommend Trouble Next Door by Stefanie London. It's fun and a good old bit of sexy.

Book Info:

Publication: November 13, 2017 | Entangled Lovestruck |
McKenna Prescott is the queen of picking the wrong men. When her latest boyfriend dumps her, she decides to devote her time to "exploring herself" (read: drinking wine and ordering sex toys online) and starting her freelance makeup business. That is, until an embarrassing delivery mix-up puts her sexy, gruff neighbor in her path…
Beckett Walsh is married to his job…which is a deal-breaker for the woman he's supposed to be marrying. Even worse, his would-be father-in-law has pulled support from Beckett's startup and now Beckett stands to lose everything. But the gorgeous, crazy makeup artist from down the hall has an equally crazy but mutually beneficial idea: if he convinces his sister to hire McKenna for her high-society wedding, McKenna will teach him about what women want so he can get his fiancée back.
All he has to do is make sure he doesn't fall for the wrong girl.