I love a story that will transport you to another place, The Promise of Provence (Love in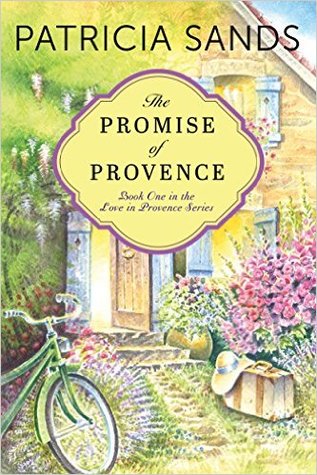 Provence Book 1) by Patricia Sands:  does just that. It is about rebuilding you life after life as you know it falls apart. It is the type of story that reaches out and grabs you and holds you captive until the last page is turned. 
Katherine Price thought that her life was perfect, until the day that she came home and found flowers from her husband and a note asking her for a divorce. with her head reeling, she decides to make a bold change and takes off to France. During her path to finding herself, Katherine learns about the struggles her parents faced, and learns more about the past. As she travels, she is sucked in by the friendliness of the locals and finds comfort in her surroundings.
This is a story about connecting with your past, facing your fears and your future and discovery. The author did a wonderful job painting pictures of all of the places, people and things that Katherine experienced on her journey. I truly connected with Katherine on a deeper level, and I really felt like I was on a wonderful journey with her.
If you enjoy stories surrounding strong women finding their path and carving a new future out of an unexpected turn of events, then you will truly love reading this amazing story.
Book Info:

Publication: October 6th 2015 | Lake Union Publishing | Love in Provence Book 1
On the evening of her twenty-second wedding anniversary, Katherine Price can't wait to celebrate. But instead of receiving an anniversary card from her husband, she finds a note asking for a divorce.
Fifty-five and suddenly alone, Katherine begins the daunting task of starting over. She has her friends, her aging mother, and her career to occupy her, but the future seems to hold little promise—until, after a winter of heartbreak, Katherine is persuaded to try a home exchange holiday in the South of France.
In Provence, bright fields of flowers bloom below medieval hilltop villages with winding cobblestone streets. Charmed by the picturesque countryside, the breathtaking Côte d'Azur, and the enchantment-filled boulevards of Paris, Katherine feels life opening up once again. Lavender perfumes the air, and chance encounters hint at romance and passion. But memories of heartbreak and betrayal linger—and her former life waits for her back home. Can she find the courage to begin again?