The Promise of Us by Jamie Beck: Claire is trying to focus on building and expanding her business as she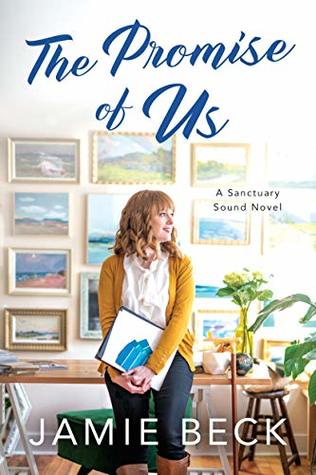 faces yet another challenge: the return of her former best friend, Peyton, who betrayed her. Claire has battled back from adversity before, when she lost her budding tennis career for simply being in the wrong place at the wrong time. She's a very talented interior designer and she enjoys working with her best friend, Steffi, but they need more business and fast.
Logan was born in a family of wealth and privilege. Apart from his parents who always seemed more concerned with the family name and reputation, Logan has had a pretty easy life. He's handsome, sexy, charming, and confident. He's an incredibly talented photographer who loves to travel and make the most of every moment. When he learned of Peyton's cancer diagnosis, he just about dropped everything to be by her side.
Logan has never had an issue with going after what he wants and he firmly believes that the ends justify the means when it comes to getting what he wants. At the top of his wish list is for Claire to forgive Peyton and resume their friendship again. Logan and Claire have known each other for most of their lives and he's surprised by how much Claire has changed. She may still blush around him, but she's also calling him out on his motivations.
But a perfect apartment wasn't his goal. "But it is possible."
She crossed her arms now, the little paper bag dangling from her fingers. "You could easily hire someone in the city instead of playing games with me."
"Games? Why can't I help an old friend keep her new business going? We are old friends, aren't we?"
Claire is dismayed to realize she hasn't outgrown her crush on Logan. They are opposites is just about every way, including their views on Peyton. In taking on the redesign of Logan's New York apartment, she can't avoid spending time with Logan. He challenges her to rethink her life and willingness to take chances while she challenges him to change his relationship with his parents.
"What do I get when you lose?"
He gazed into eyes as deep and blue as the sound on a cloudless day, wanting to dive right in and not come up for air. "Whatever you want?"
The flush rose up her neck like mercury in a thermometer. "How do you know I won't take advantage of you?"
The Promise of Us is emotional, healing, and sweet. Jamie Beck provided conflict, angst, romance, and friendship, while developing the characters and relationships. Ms. Beck continued to develop an interesting cast of characters for the Sanctuary Sound series. The Promise of Us can be read as a standalone book in the series. Fans of Catherine Anderson and Shelly Alexander will enjoy The Promise of Us.
Book Info:

Publication: April 9th 2019 | Montlake Romance | Sanctuary Sound #2
They couldn't be more different…or more completely perfect for each other.
Claire McKenna knows about loss. The bullet wound that ended her promising professional tennis career drove her to make a quiet life for herself working with fabric samples, chatting with her book group, and spending time with her parents in her sleepy coastal Connecticut hometown. Then there was the boyfriend who dumped her to pursue her adventurous childhood friend. Now, Claire's business has hit a financial snag, but she's up to the challenge. After all, she can survive anything. At least she thinks so…until her teen crush, Logan, returns to town with his sister, Claire's traitorous friend.
Photographer Logan Prescott is more playboy than homebody. But his sister's illness teaches him that there's more to life than chasing the next thrill. Bent on helping her win Claire's forgiveness, he turns his charm on Claire and offers her big bucks to renovate his multimillion-dollar New York City condo.
After years of playing it safe, Claire must now take some risks. The payoff could be huge, but if it all falls apart, can her heart recover from another loss?