In The Queen (The Original Sinners #8) by Tiffany Reisz, Eleanor Schreiber knows that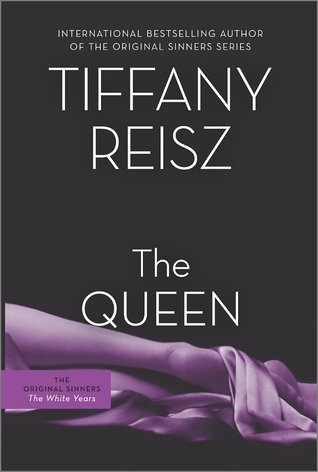 once she crosses the threshold into Kingsley Edge's mansion there will be no turning back. Gone will be the woman who hid in a convent for a year. Gone will be the woman who gave herself, body and soul, to her beloved priest. In her place will be a new creation. A woman who will use her mind and her emotions, channeling them into power over those who long to submit. She will become Mistress Nora.
"You're in my hands now, in my bedroom. This is the safest room in the world right now. Nothing and no one will harm you here. Your body will be honored. Your desires will be honored. Your trust in me will be honored. Do you believe me?"
"Yes, Mistress." He whispered the words.
Giving in to her dominant ways gives Nora a feeling of freedom she hasn't had before. But she is still caught between King, the master of the kink world in New York, and Soren, the Jesuit priest she loves more than anything else in the world. The provocative and risky relationship between the three of them holds the key to either their salvation or their undoing. What happens depends upon the choices they each make along the way.
"I told you there were three ways to be a queen. There are four."
"What's the fourth way?"
"You can be born a queen." He looked up at her. "That's why you are a queen. Not because I made you one or you stole a throne or a crown. You were born to be the queen and you are."
What an emotional journey we've enjoyed along with Nora, Soren, Kingsley and the rest of their salacious group. The Queen is the final installment. The last hurrah. And as sad as I am to watch these characters go, it couldn't have ended in a more fitting way.
'So much for being a queen. In the game between Kingsley and Soren, she was still very much a pawn.'
I won't even begin to try to explain the magic that is Tiffany Reisz's The Original Sinners series. I could never do it justice and it is something that has to be read book by book to be completely understood. It is a masterpiece of erotica. Actually, not just erotica, because this series has always been more than that. To me, it's about the abundance of love, respect, hurt and doubt within every book, every character and every substory we have encountered along the way.
The characters are absolutely compelling and are so very complex that they have each captured a place in my heart. In the final book, we learn even more about how Nora made her transition from Eleanor Schreiber to Mistress Nora, and how Kingsley and Soren each played their part in it. As was done previously, the story starts off in present day and then flashes back to a particular time, ending with the present day again. In this case, we go back to when Eleanor returns from the convent and ends up at Kingsley's door.
I thought that this part of their journey was probably the most intense and emotional. Or maybe it's just because this is the last time we will spend with Nora, Soren and Kingsley. But something about the sacrifices and decisions they made were heartbreaking and yet full of love. Their complicated relationship was one that defied logic in the real world, but was also one that honestly filled me with joy and hope for those who don't fit in to the 'normal' mold of relationships.
This is it Original Sinners fans! The last piece of the puzzle that proves why Nora is the Queen, Kingsley is the King, and Soren is their God. I cannot thank Tiffany Reisz enough for introducing us readers to their crazy, sexy, messed up, wonderful world.
Book Info:

Publication: October 27th 2015 | by MIRA | The Original Sinners #8
Once upon a time, Nora and Søren made a fateful deal—if he gave her everything, she would give him forever.
The time has finally come to keep their promises.
Out of money and out of options after her year-long exile, Eleanor Schreiber agrees to join forces with Kingsley Edge, the king of kink. After her first taste of power as a Dominant, Eleanor buries her old submissive self and transforms into Mistress Nora, the Red Queen. With the help of a mysterious young man with a job even more illicit than her own, Nora squares off against a cunning rival in her quest to become the most respected, the most feared Dominatrix in the Underground.
While new lovers and the sweet taste of freedom intoxicate Nora, she is tempted time and time again by Søren, her only love and the one man who refuses to bow to her. But when Søren accepts a new church assignment in a dangerous country, she must make an agonizing choice—will the queen keep her throne and let her lover go, or trade in her crown for Søren's collar?
With a shattering final confession, the last link in the chain is forged in The Original Sinners saga. It's the closing chapter in a story of salvation, sacrifice and the multitude of scars we collect in the name of ecstasy—and love.