The Quilting Circle by Amy Lillard is a delightful collection of three originally released stand alone stories: More than Friendship, More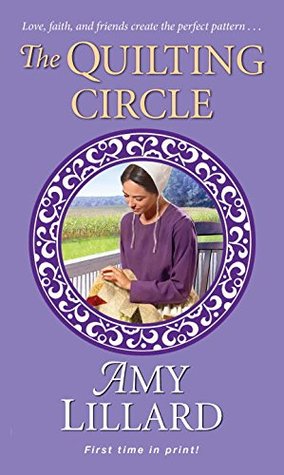 than a Promise and More than Marriage. Upon starting The Quilting Circle, I realized I had previously read these stories, and actually had reviewed each as a stand alone. However, I enjoyed the opportunity to re read these charming and uplifting stories.
In More than Friendship, Clara Rose is torn between her love for her life long best friend Obie, and what she feels is her love for her betrothed, Thomas. Obie keeps begging her not to marry Thomas, but will not tell her why. Clara doesn't want anything to change in her friendship with Obie even with her upcoming marriage. She faces challenging decisions and truths about what she seeks in marriage and friendship.
In More than a Promise, when Mariana's husband passes from cancer, she finds herself pregnant after many childless years, and struggling to determine how she will raise a baby- then she learns she's carrying twins! While on forced bedrest, her late husband's best friend, Reuben, devotes considerable time to keeping her company and caring for her farm. Her closest friends encourage her to look at Reuben as a potential mate, especially when he expresses feelings for her that go beyond longtime friendship. As when I read this story the first time, I was deeply touched by the special relationship between Mariana and Reuben.
In More than Marriage, readers get a glimpse, through Tess's frustration about her husband Jacobs' cell phone, about why the Amish are so deeply reluctant to allow cell phones in their communities. Jacob spends considerable time on his phone when not at work, and Tess feels ignored and that Jacob doesn't wish to spend time with her. She's also frustrated because he won't spend time away from Wells Landing for them to visit her parents. She starts comparing what she feels is lacking in their marriage, to what she views as the perfect marriages of her friends. It's a valuable lesson that comparisons are not wise to make between relationships.
I really enjoyed this collection and look forward to future novels from Amy Lillard.

Book Info:

Publication: October 31, 2017 | Zebra |
MORE THAN FRIENDSHIP
Youngest quilter Clara Rose Yutzy is planning her wedding to her longtime beau—which is why she resolutely ignores newly warm feelings for her best friend, Obidiah. But Obie is certain God intends them to be together. With the Lord's help, he'll prove to Clara Rose how much he loves her . . .
MORE THAN A PROMISE
Mariana Miller prayed for a child throughout fifteen years of marriage. But now, newly widowed, Mariana discovers she's pregnant—with twins! She's more grateful than ever for her caring community—especially Reuben Weisel, her late husband's business partner and best friend. Reuben's quiet strength comforts her—until he proposes marriage . . .
MORE THAN A MARRIAGE
Tess Smiley is new to Wells Landing and newly married. But her marriage isn't the harmonious union she envisioned. Tess loves Jacob with all her heart, but her heart tells her she must take a stand—and ask for support. Only then does Jacob see how he has hurt her. But is he too late? . .