In The Rancher's Christmas Song by RaeAnne Thayne , music teacher Ella Baker has returned to Cold Creek to help her father, who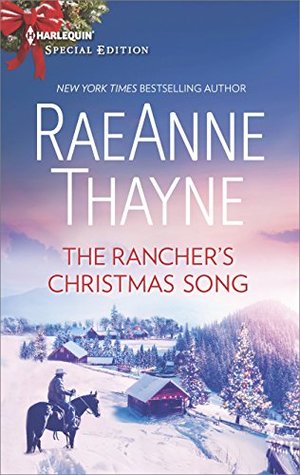 has Parkinson's, run their ranch. Rancher and single father Beckett McKinley has his hands full between running his ranch, raising his twin boys, and helping Ella's father with their ranch. Together, they have to learn to open their hearts to move on from the pain of their pasts.
The chemistry between the pair is obvious from the beginning, as was the connection between Ella and the twins . I liked how patient Ella was with Trevor and Colter, despite how rambunctious they were. While everyone else complained about them, she's the only one who takes the initiative to find outlets for their extra energy. The twins, despite their hyperactivity, were very sweet and I loved the surprise they came up with for their father for Christmas.
"It's for our dad," Trevor finally said. "He works hard all the time and takes care of us and stuff and we never have a good present to give him at Christmas."
"Except things we make in school, and that's usually just dumb crap," Colter said. "Pictures and clay bowls and stuff."
Ella had a feeling the art teacher she shared a classroom with probably wouldn't appreciate that particularly blunt assessment."
Beckett is a good father, having raised his sons on his own since their mother left when they were two. It's clear that they're close and he would do anything to make them happy.
"We'll see," he hedged, not quite ready to commit.
"You always say that," Trevor said. "How come we never really see anything after you say we will?"
"Good question. Maybe someday, I'll answer it. We'll have to see."
The boys laughed, as he hoped…"
Ella's father comes across as a bit of a jerk, not wanting to give her a chance to help him run the ranch. In fact, most of the book it seems like he wants nothing more than for her to go back to Boston, despite the fact she takes care of him. Unfortunately, because of it I didn't very much care for him for most of the book. When his reasoning is finally revealed, however, his behavior is a little more understandable, but I thought he could have handled it better.
While this is the sixteenth book in the Cowboys of Cold Creek series, it can be read as a standalone. Characters from the previous books make an appearance, but the storyline itself is completely separate.
The Rancher's Christmas Song is a charming, small-town holiday romance that will draw readers In from the beginning and keep them hooked to the end. With well-written characters and an enjoyable storyline, this is a book not to be missed.

Book Info:

Publication: October 17, 2017 | Harlequin Special Edition | The Cowboys of Cold Creek #16
Music teacher Ella Baker's plate is already full. But when single dad Beckett McKinley's wild twin boys need help preparing a Christmas song for their father, Ella agrees on one condition: they teach her to ride a horse. She's hoping that'll help mend her strained relationship with her rancher father; it certainly has nothing to do with the crush that's lingered since her one and only date with Beck.
It isn't disinterest spurring Beck to keep his distance—if anything, the spark is too strong, with Ella reminding him of his ex-wife. Soon what started as an innocent arrangement is beginning to feel a lot like family. But with the holidays approaching, Beck and Ella will have to overcome past hurts if they want to keep each other warm this Christmas…