The Rancher's Cinderella Bride by Sara Orwig: Pushed into marriage in this day and age? Crazy, right?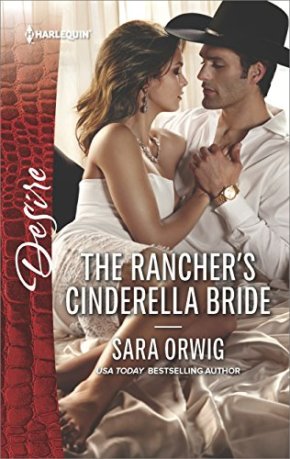 Not really, it can be incredibly real and incredibly scary.
Megan, Meg, Louise Aldridge knew it and it was pushing her to do something crazy… The problem was she couldn't marry the man her parents were pushing her into. It wasn't fair and she wasn't going to allow it, even if she had to do something completely out of character to allow her to stay single.
Gabe Callahan loved life, he lived hard and fast and got everything he could out of life. He could afford to and he didn't hurt anyone in the process so why not. So when his old best friend asked him a favor he couldn't turn her down. Even if it meant doing something crazy.
When these two friends get together neither expected that a simple favor would turn out to be so complicated and so life altering.
This was an odd book. The premise is great and Ms. Orwig had a great start. However the characters were just so off in terms of personalities and both being so weak willed it was hard to enjoy the novel. The potential was great with this one and the descriptions were really good, but as a reader I couldn't stomach the lack of backbone. Also not sure where the title came from, Meg wasn't really a Cinderella character at all.
Book Info:

Publication: Published May 9th 2017 | Harlequin Desire |
Meg Aldridge needs a fiance. Her family's demands that she marry have become unbearable. But a monthlong pretend engagement to her best friend, Gabe Callahan, should shut them right up. After all, they've been feuding with the Callahans for years.
Gabe's willing to give up the ladies temporarily and focus his attentions on Meg. She's his best friend; there's no danger of complications. But a made-over Meg is wearing sexy clothes and makeup…and stirring up new feelings. Will a month of being lovers for appearance's sake become a lifetime of the real thing?