The Rancher's Wager by Maisey Yates is the third story in her Gold Valley Vineyards series which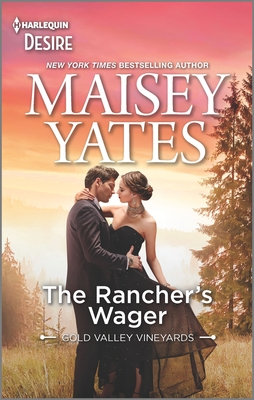 features a trio of sisters, the youngest of which, Cricket, gets her happy ever after in this tale.
Cricket Maxfield has a plan to start a ranch of her own, and she needs some professional help. To her delight, she wins a month of free labor in a poker match from Jackson Cooper , longtime family rival (and her personal crush). What she doesn't know is that Jackson has designs on the land Cricket owns and deliberately lost to her. He figures if he can show her how hard running a ranch really is, she'll consider selling the land to him which is right next to his own property, allowing him to expand. But when sparks fly between them, will his plan be turned upside down?
I've enjoyed the previous two stories in this series with Cricket's sisters Emerson and Wren. There's a bit of a story arc that runs through the series, but each can be read as a standalone. In Emerson's story (and revisited here), it was discovered that their father sexually harassed young women and he's now persona non grata. Cricket has a theory that she might be related to Jackson, but that plotline is dealt with quickly and paves the way for their romance.
While Cricket has had a crush on Jackson since she was a teenager, Jackson who is several years older than her was oblivious to it and it's only now, when Cricket is 22 and has obtained his services (and is letting him stay in her ranch house while he works with her) that he sees her for who she really is – a beautiful, determined, smart woman. In showing her how difficult ranching can be, she proves she is up to the challenge, eager to learn, and ready to find her own life away from her family winery business. Their attraction leads to a steamy affair and then the ultimate test of whether they can make it into something more. Their happy ending is sweet and satisfying. I'm not sure what's coming next from this author but I will be keeping my eyes out for more!
Book Info:

Publication: Jan 01, 2021 | Harlequin Desire | Gold Valley Vineyards #3
This wealthy rancher has placed his bet…
And it's winner takes all!
No one gets under Jackson Cooper's skin like fellow ranch owner Cricket Maxfield. Now, facing off at a charity poker game, the stakes get personal. Jackson finds himself on the losing end… And paying up means being the ranch hand at Cricket's beck and call. In close quarters, tempers flare—and the fire between them ignites into a passion that won't be ignored…