Enjoy the View by Sarah Morgenthaler is the third book in the Moose Springs, Alaska series. The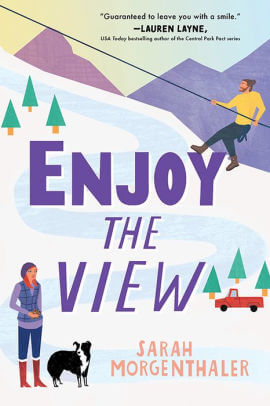 books can be read as a stand-alone but truthfully once I read the second book I had to go and read the first. The books are so hilarious and kept me laughing until the end.
The author brings the story alive and makes you feel like you are part of the small town. Moose Springs is a small town in Alaska and a tourist attraction for skiers much to the local's horror. Most of the locals and businesses refuse to associate with the tourists and don't want more tourists coming to their small town. So, when a film crew comes to town to make a documentary for the Alaskan Tourism Board, the locals won't cooperate at all!
Hollywood actress River Lane was about to turn thirty years old and her opportunities for main character roles has diminished so she decided to get behind the camera. She finally has her chance to produce a film and she's not letting anything get in her way. When the locals in Moose Spring make it hard for her to film in town, she leaps at Easton's suggestion of her crew filming while they climb Mount Veil. River loved climbing and thought she might find her new self at the top of the mountain. She thought it would be an easy climb, but cold weather and accidents could prevent her from reaching the top.
Easton Lockett had run into River a few times while she was trying to film in Moose Springs. He knew the locals would never cooperate with River and he wanted to help her, so he suggested she film Mount Veil. He was a professional climber, and his job was to guide groups up the mountain but taking River and her crew up the mountain will be a challenge. He prefers to stay in the background and not talk but River makes that impossible. She and her crew are fearless, and trouble seems to follow them.
This series has been so fun to read! I found myself laughing all through the book and even while writing this review. The critters in the book were so amusing and their interaction with the characters was very entertaining. I loved how Easton and River complemented each other and were such a perfect couple. He was quiet and laid back while she was enthusiastic and outgoing. I think this book has become my favorite one in the series and I can see myself reading it again in the future. I can't wait to see what the author will come up with for the next book since I'm sure it will be just as entertaining.
Book Info:

Publication: January 19th 2021 | Sourcebooks Casablanca | Moose Springs, Alaska #3
A grouchy mountaineer, a Hollywood starlet
And miles of untamed wilderness…
What could possibly go wrong?
Former Hollywood darling River Lane's acting career is tanking fast. Determined to start fresh behind the camera, she agrees to film a documentary about the picturesque small town of Moose Springs, Alaska. The assignment should have been easy, but the quirky locals want nothing to do with River. Well, too bad: River's going to make this film and prove herself, no matter what it takes.
Or what (literal) mountain she has to climb.
Easton Lockett may be a gentle giant, but he knows a thing or two about survival. If he can keep everyone in line, he should be able to get River and her crew up and down Mount Veil in one piece. Turns out that's a big if. The wildlife's wilder than usual, the camera crew's determined to wander off a cliff, and the gorgeous actress is fearless. Falling for River only makes Easton's job tougher, but there's only so long he can hold out against her brilliant smile. When bad weather strikes, putting everyone at risk, it'll take all of Easton's skill to get them back home safely…and convince River she should stay in his arms for good.